The AAP government proposed the project in its 2018-19 budget, in a bid to decongest the stretch between Wazirabad and the DND Flyway.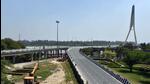 Updated on Oct 03, 2022 11:54 AM IST
Delhi deputy chief minister Manish Sisodia said the Delhi Metro and the public works department (PWD) were working together on the GT Road project, which would reduce the cost of construction work by about ₹150 crore.

Published on Sep 04, 2022 02:42 PM IST
Written by Harshit Sabarwal | Edited by Sohini Goswami
, New Delhi
Justice Najmi Waziri noted that the extensive damage to trees due to the PWD's ongoing civil works in the Vikas Marg area was in breach of the judicial mandate.


Published on Jun 04, 2022 12:09 AM IST
Delhi's Ashram underpass connects the Nizamuddin railway bridge and the CSIR Apartments at the busy intersection. The foundation stone was laid by chief minister Arvind Kejriwal on December 24, 2019.


Published on Apr 23, 2022 06:26 PM IST
A government spokesperson said that the PWD has identified various waterlogging hotspots in the Capital and has been working to prepare infrastructure to prevent future incidents.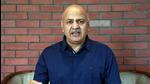 Updated on Mar 18, 2022 04:34 AM IST