France is integral to the development of the military-industrial complex in India as it is willing to share and jointly develop technologies without caveats.

In light of the Indian acquisition of Rafale, the Pakistani air force has decided to go for 25 Chinese made J-10 multi-role fighters as a counter and PLA Air Force has deployed the J-20, so called fifth generation fighter, at Hotan, Lhasa, Kashgar and Nyingchi air bases in Tibet and Sinkiang.

Flight Lieutenant Shivangi Singh joined the IAF's fighter stream in 2017 and flew the MiG-21 Bison aircraft before being posted to a Rafale squadron based in Ambala.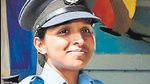 The last contracted Rafale fighter is expected to arrive in India in April concluding the 36 aircraft contract with France. This fighter, fitted with all India specific enhancements, actually was the first fighter used for training Indian fighter pilots.

The Rafale-M is a variant of Rafale fighters that operate from land bases. The Indian Air Force has also ordered 36 Rafale-B and Rafale-C fighter jets.