Latest from sabarmati ashram
Boris Johnson was also gifted a copy of 'The Spirit's Pilgrimage' by Madeleine Slade (or Mirabehn), who was a British supporter of Indian independence and a disciple of Mahatma Gandhi.

Updated on Apr 21, 2022 11:09 AM IST
Boris Johnson was scheduled due to visit India in January last year but the trip was cancelled as the second wave of the Covid-19 was sweeping the UK at the time.

Updated on Apr 21, 2022 10:33 AM IST
Their visit to the BJP-ruled Gujarat is being seen as an attempt to prepare the groundwork for their party ahead of the state Assembly elections scheduled to be held by the end of this year.

Published on Apr 02, 2022 01:17 PM IST
The order was passed on an appeal filed by Gandhi against a November 25 order passed by the high court which went by an assurance given by the top law officer of the state that the Ashram and the ambience around it will not be disturbed.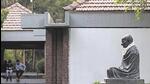 Updated on Apr 02, 2022 06:19 AM IST
A bench of Chief Justice N V Ramana and Justices Krishna Murari and C T Ravikumar on Friday listed the Sabarmati Ashram project matter for hearing.

Published on Mar 25, 2022 04:37 PM IST