[
serum institute of india
]
Latest from serum institute of india
India has so far reported eight cases of monkeypox, of which five have been from Kerala and three from Delhi. Of the five patients in Kerala, one succumbed to the disease on July 30, making it India's first monkeypox fatality.

Published on Aug 02, 2022 05:41 PM IST
Written by Sharangee Dutta | Edited by Aniruddha Dhar
, New Delhi
SII manufactures Covovax under a license from the vaccine's developer, US-based Novavax. The export version of the vaccine is called Nuvaxovid and has been dispatched to New Zealand, Netherlands, Australia and Indonesia, where a total of at least 100 million doses have been sent.

Published on Jul 01, 2022 03:16 AM IST
Cervical cancer in India ranks as the second most frequent cancer among women between 15 and 44 years of age.

Published on Jun 15, 2022 10:37 PM IST
On April 29, the National Technical Advisory Group on Immunisation (NTAGI)--the government's technical panel--recommended inclusion of Covovax in the vaccination programme for children aged 12 and above.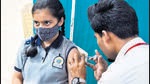 Published on May 03, 2022 11:37 PM IST
Serum Institute of India (SII) director for government and regulatory affairs Prakash Kumar Singh had written to the Centre recently requesting for Covovax's inclusion in the immunisation drive for children aged 12 to 17 years.

Updated on May 10, 2022 07:57 PM IST