Thakur lauded the Bharatiya Janata Party's work since 2014 and claimed that the party has ensured that basic amenities like tap water access, LPG cylinder, and electricity reach the last mile.


Updated on Nov 09, 2022 11:31 PM IST
Reacting to this surprising change, BJP minister Suresh Bhardwaj said, "In Himachal Pradesh, it is not customary to change one seat and fight in another seat," adding that it was quite strange.


Published on Oct 20, 2022 02:07 PM IST
With this recommencement, the Alliance Air airline will expand its network in Himachal Pradesh so that commuters can fly to Delhi-Shimla-Delhi daily. Here's all you need to know about the flight timings and its ticket fares


Updated on Sep 21, 2022 04:20 PM IST
The Himachal Pradesh Freedom of Religion (Amendment) Bill, 2022, was passed unanimously with a voice vote. The bill inserts the reference to "mass conversion", which is described as two or more people converting at the same time in the 2019 act.


Published on Aug 13, 2022 05:26 PM IST
The central government has taken several steps to create a transparent and sensitive system of governance and minimized the scope for corruption, Prime Minister Narendra Modi said on Tuesday.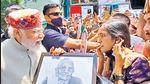 Updated on Jun 01, 2022 06:03 AM IST