The trailer showcases the legendary Power Rangers facing off against their long-time nemesis

Published on Mar 22, 2023 09:28 PM IST
Several walls of the JNU's School of International Studies (SIS)-II were defaced with graffiti scribblings of discriminatory slogans against members of Brahmin and Baniya communities.


Updated on Dec 12, 2022 04:14 PM IST
A police officer told PTI that the father was taken into custody and would travel to nearby Alappuzha soon for detailed interrogation. Further procedures would be decided later.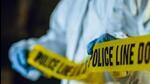 Updated on May 29, 2022 04:46 AM IST