Latest from sonali phogat
Edward Nunes, who was re-arrested by the Goa Police on Thursday for submitting a fake Covid certificate to avoid questioning in the Sonali Phogat murder case, was taken into custody with the help of the Goa Police.


Published on Nov 05, 2022 08:16 PM IST
Earlier, the same court had granted bail to Edwin Nunes, owner of the Curlies Restaurant where Phogat had partied hours before her death.


Updated on Sep 19, 2022 06:04 PM IST
The CBI team visited the Leoney Grand Resort in Goa on Saturday – the hotel where Sonali Phogat and her aides stayed during the trip.


Published on Sep 18, 2022 01:50 PM IST
The CBI teams along with CFSL experts will soon reach Goa to collect documents and interact with local police officers, and doctors who had examined Phogat, reported news agency PTI.


Published on Sep 15, 2022 09:00 PM IST
Actor-politician Phogat was declared dead at the St Anthony Hospital in North Goa on August 23 . The initial cause of death was a suspected heart attack but her family alleged foul play.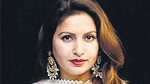 Updated on Sep 13, 2022 05:36 AM IST