Latest from sudha bharadwaj
When she was released on conditional bail in the Bhima Koregaon case, for which she spent over 3 years in jail, one of the first things Sudha Bharadwaj asked her daughter to send from her home in Bilaspur were her black coat and her lawyer's sanad.

Updated on Oct 21, 2022 11:27 AM IST
Byculla jail superintendent Yashwant Phad said that they received court papers ordering the release of Bharadwaj on Thursday morning

Published on Dec 09, 2021 11:59 PM IST
Sudha Bharadwaj on Wednesday appeared before special NIA judge Dinesh Kothalikar, who ordered her release on a personal bond of ₹50,000.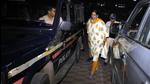 Updated on Dec 09, 2021 12:20 AM IST
Sudha Bharadwaj was arrested in August 2018 under the provisions of the stringent Unlawful Activities Prevention Act (UAPA) in connection with the Elgar Parishad-Maoist links case.

Published on Dec 08, 2021 12:53 PM IST
The case relates to alleged inflammatory speeches delivered at the Elgar Parishad conclave, held at Shaniwarwada in Pune on December 31, 2017, which the police claimed triggered violence the next day near the Bhima-Koregaon war memorial located on the city's outskirts.

Published on Dec 07, 2021 12:09 PM IST