Latest from sugarcane farmer
While Varun Gandhi thanked Uttar Pradesh chief minister Yogi Adityanath for increasing the sugarcane rates, he claimed the hike was insufficient amid "rising cost and inflation".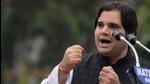 Among those waiting at the weighing scale are also people who do not own land but are engaged in transporting sugarcane from farms to sugar mills after getting the yield measures at weighing scales.

RLD leader Jayant Chaudhary alleged that the government wanted to decrease the SAP this year but could not dare do this because of ongoing farmers' agitation.

Assurance to the effect came during a meeting between a BSMA delegation and sugarcane industries minister Pramod Kumar on Saturday

Priyanka Gandhi Vadra claimed that unpaid dues have put sugarcane farmers in extreme distress.