Latest from supreme court of india
Setting the next hearing to February, the Supreme Court asked commission to invite suggestions of the public and experts about measures to tackle air pollution in the national capital.

Published on Dec 16, 2021 01:23 PM IST
The Supreme Court observed that deferring elections for which campaigning almost ended would set a wrong precedent.

Published on Nov 23, 2021 05:41 PM IST
Calling the demand for MSP 'unsustainable', Anil Ghanwat warned that if the Centre agrees to the demand for extending MSPs to 23 crops it would drive the country to bankruptcy.

Updated on Nov 23, 2021 04:24 AM IST
SC directs Centre to hold the national science aptitude test under KVPY fellowship in all 13 vernacular languages as it asked the Centre not to get personal over an order to this effect passed on Monday by the Madras High Court.

Published on Oct 29, 2021 05:08 PM IST
The Supreme Court on Monday noted that the investigating agency has not made any progress on the reason or motive behind the hit-and-run incident that claimed Anand's life.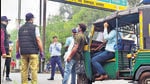 Updated on Aug 10, 2021 01:10 AM IST