Turkmenistan Earthquake: The quake was at a depth of 48 km (29.83 miles), GFZ said.

Published on Aug 16, 2023 12:07 PM IST
Strong earthquake tremors were felt in the national capital and adjoining areas - Noida, Punjab, Jammu and Kashmir after a 6.6 quake struck northern Afghanistan on Tuesday evening.

Published on Mar 22, 2023 01:21 AM IST
Turkmenistan's president has said he wants to close a popular tourist attraction known as the "Gates of Hell." The site is a spectacular natural gas crater that has burned for decades.


Published on Jan 09, 2022 09:01 AM IST
Modi spoke of the importance of India's relations with Kazakhstan, Kyrgyzstan, Tajikistan, Turkmenistan and Uzbekistan when the foreign ministers of the five countries jointly met him.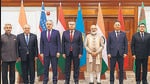 Updated on Dec 21, 2021 02:01 AM IST
North Korea told the World Health Organisation in June that it tested more than 30,000 people for Covid-19 till that month but found not a single case of the virus. The isolated and secretive state has banned tourists and severely restricted cross-border traffic and trade to stop the virus.


Updated on Sep 28, 2021 09:46 AM IST
Written by Joydeep Bose | Edited by Meenakshi Ray
, Hindustan Times, New Delhi