Latest from uttar pradesh police
The former chief minister also questioned the credibility of those who appointed Goel to the top post. A 1987-batch IPS officer of the Uttar Pradesh cadre, Goel had been the DGP for a little over 11 months and is due to retire in February 2024.

Written by Ishika Yadav | Edited by Aryan Prakash
Gyanvapi Masjid survey: The civil court in Varanasi ordered that the survey should be completed by May 17.

An abducted girl was taken to Bhopal, where she was allegedly gang-raped for four days. When she was brought back, and handed over to the SHO, the officer allegedly raped her in the police station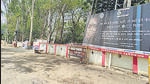 The NHRC said it had taken suo motu cognizance of media reports of the case in which a 13-year-old girl was raped the in-charge of a police station when she went to file a complaint about her gang rape.

The police have arrested three of the accused after an FIR was registered against five people, including the SHO, who has been suspended and is presently absconding.