Vinod Rai revealed that his only regret during his tenure was that he did not pay enough attention to women's cricket, making the most saddening revelation


Updated on Apr 18, 2022 02:36 PM IST
Here are today's top news, analysis, and opinion at 1pm. Know all about the latest news and other news updates from Hindustan Times.


Published on Apr 08, 2022 12:51 PM IST
Vinod said he had taken the "the lead in the speaking to Sachin Tendulkar" after then India captain Virat Kohli informed him about younger players in the team feeling "intimidated" by Anil Kumble's style of coaching.


Updated on Apr 08, 2022 12:35 PM IST
The attack on Vinod Rai came a day after he tendered an unconditional apology to Congress leader and former MP Sanjay Nirupam in response to a defamation case filed by the latter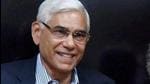 Updated on Oct 30, 2021 01:36 AM IST
In his affidavit he said his charges against Sanjay Nirupam were factually incorrect.


Updated on Oct 29, 2021 04:32 PM IST