The former Pakistan skipper commented on Wasim Akram's recent remarks over the future of ODIs, where the country's legendary former pacer had said the format is "kind of dying."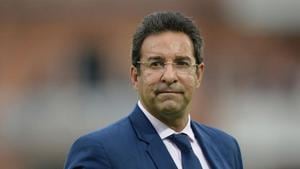 Published on Jul 24, 2022 08:43 AM IST
Pakistan legend Wasim Akram has made 356 ODI appearances. In fact he is also the second highest wicket taker after Muttiah Muralitharan in the format.

Published on Jul 21, 2022 10:16 AM IST
Brett Lee recalled an interesting episode involving Wasim Akram and how he took just four deliveries to get the better of renowned all-rounder Jacques Kallis while others, including the Australian, struggled.

Updated on Jul 14, 2022 06:24 PM IST
Does the recent success mean Jasprit Bumrah can be put in the same bracket of Wasim Akram and Malcolm Marshall? Former India batter and now broadcaster Sanjay Manjrekar feels "not yet."

Published on Jul 14, 2022 02:47 PM IST
What started as a loving friendship between Wasim Akram and Waqar Younis turned into a hostile feud in the 1990s.

Updated on Jun 27, 2022 01:35 PM IST