Post on Haryana bus conductor who offers water to passengers upon boarding wins hearts
Published on Jun 07, 2022 03:53 PM IST
IAS officer Awanish Sharan posted the story of the bus conductor offering water to passenger in Haryana along with a picture.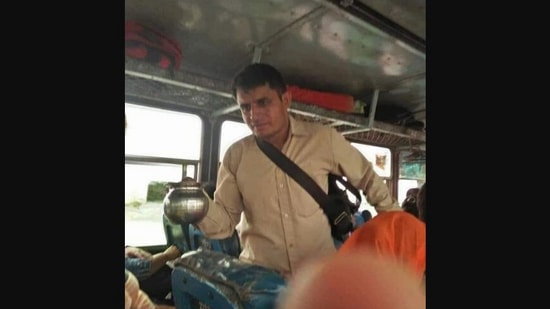 The Internet is filled with stories of people doing kind and selfless deeds for others. These are the tales that leave people with a warm feeling in their hearts. Just like this share posted on Twitter that showcases such a gesture by a bus conductor from Haryana.
IAS officer Awanish Sharan posted the story along with a picture. "He is Surendra Sharma. He works as a bus conductor with Haryana Roadways and lives in Rohtak," he wrote. In the next few lines he added, "As soon as a passenger boards the bus, the first thing he offers is a glass of water. He has been religiously following this custom ever since he joined the service 12 years ago." The picture shows the man offering water to a passenger.
Take a look at the post:
The post has been shared a few days ago. Since being posted, the tweet has accumulated more than 7,800 likes and counting. The share has also prompted people to post various comments.
"I confirm this... I saw him offering water," shared a Twitter user. To which, the IAS officer replied, "Pls convey my regards to him."
"Surender Sharma very nice work done. We are proud and felt motivated when we see such good people are exists in the system. You are the one who makes this system run efficiently. With such positive things which you do on daily basis gives the community a positive wipe," commented another. "This not only shows that he is a good human being but takes immense pride in his job also!" posted a third. "Respect for such amazing people…," wrote a fourth.
What are your thoughts on the post?
Personalise your news feed. Follow trending topics