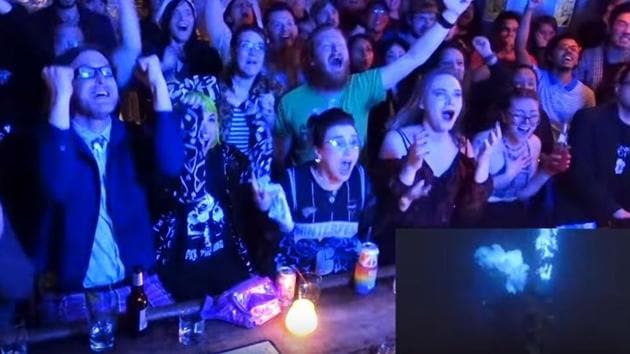 Game of Thrones fans create stadium atmosphere in US bar, lose their minds at Arya-Night King scene. Watch here
Game of Thrones fans at a US bar created a stadium-like atmosphere during the tense final moments of the most recent episode, in which Arya Stark took on the Night King.
UPDATED ON MAY 02, 2019 06:26 PM IST
Game of Thrones fans brought sports stadium atmosphere to a Chicago bar, where the latest episode of the fantasy series was shown. Videos from the screening have been shared online, much to the amusement of fans around the world.
Spoilers for the Long Night follow.
The video shows the fans watching in rapt attention as the tense final moments of the Long Night play out. With the epic Battle of Winterfell claiming thousands of lives, the main characters are taken to a secluded corner of Winterfell, near the Weirwood tree. The evil Night King approaches Bran Stark, who must be protected at all costs. The crowd watches in silence as the Night King readies his weapon, but just as he is about to swing, he is attacked by Arya Stark. The crowd erupts in cheers, which only grow louder when Arya plunges her dragonglass knife in the Night King, 'killing' him and the rest of his undead army.
The hotly anticipated episode has been controversial for its dark visuals, which left many fans complaining that they couldn't make out what was happening. The episode is the lowest rated of the series, since season five's Unbowed, Unbent, Unbroken.
Also read: Game of Thrones season 8 episode 3 review The Long Night: Arya Stark, Lyanna Mormont are little girls who win wars
The fan reactions weren't the only thing that could be compared to sports. The episode garnered a huge 17.8 million viewers on premiere night, combining live US figures with streaming viewership on HBO's apps.
The final season is now halfway through, with just three more episodes left until it is revealed who will sit on the much coveted Iron Throne. With the Night King out of the way, all eyes are on the survivors of the battle - Daenerys Targaryen, Jon Snow and the Starks, and Cersei Lannister in King's Landing down south.
Follow @htshowbiz for more

Close