The terrible, horrible, no good, very bad things seen on TV this week
Ekta Kapoor and her like are going strong, minting one horrible TV soap after another. Mothers-in-law are electrocuting daughters-in-law and naagins and saperas get the highest TRPs. Yes, Naagin and Sasuraal Simar Kaa are highest rated.
tv
Updated: Feb 22, 2016 13:40 IST
Week No. 3 and we are still not over how bad Indian TV serials are. Sometimes, you'd wonder if this still counts as entertainment for the entire family when the producers keep underestimating the viewer's cerebral capacity.
While we dread for our lives and sanity, Ekta Kapoor and her likes are going strong, minting one horrible TV soap after another. Mothers-in-law are electrocuting daughters-in-law and naagins and saperas get the highest TRPs (seriously, Naagin has the highest TRPs, followed by the second favourite Sasural Simar Ka!) .
Read: The absolute, most ridiculous things that happened on TV this week
But don't worry, there is a silver lining to every dark cloud. Remember what we learnt in high school? If something or someone looks stupid, make fun of it. That makes everything better.
1.Moms will be moms, even when you're about to die
So a guy and his frenemy are hanging off a cliff in their car, it can slip away any moment. One dude's mom comes screaming and says "Beta, tum theek toh ho na?" Don't know about you guys but the right answer to this question would be, "Haan, ekdum majama. Seriously, mom?" Obviously they are not ok, they are about to get their one-way ticket to heaven. Anyway, the dude replies, "Ma, aap yahan?" And if you close your eyes and listen, it will sound just like the time when you used to spend too much time in your room as a teen doing...ahem...'things' and your mom would walk in on you. Nasty times.
This beautiful clip of mommy-son relationship is taken from Silsila Pyar Ka from Star Plus.
2. Look what they did to this guy
Remember Band of Boys? It was a band and had some boys? Sorry, that won't help. Ok, remember that song 'Tu Hi Mera Pyar Gori' from early 2000's? So this guy down here was supposed to be the hottest one of the boys and this is what the make-up man has done to him. Why did they do this to his sideburns? What possible turn of events could lead to this atrocity? Look at them! They are a blunt 'L' and almost touching his lips. This serial has turned more into a fantastical drama like Hatim or Son Pari rather than a retelling of Ashoka's life and times. But then, that's what we expected.
Childhood ruined by Chakravartin Ashok Samrat from Colors.
3. Woman gets electrocuted by wearing Mr India's wristband on her head
Woman gets her daughter-in-law electrocuted. Finally something that can make your mom and granny seem like BFFs on comparison. If the electrocutions were not torture enough, she trash talks to her like this:
I'd prefer a thousand shocks over hearing this woman talk for another second. 'Kokeeeela Modi ki laaaash badbooo maaregi.' Ugh, her voice is stuck now.
BTW, Gopi can easily pull out the cloth from her mouth considering how free her hands are. Maybe she is enjoying all this. She'll be the only one.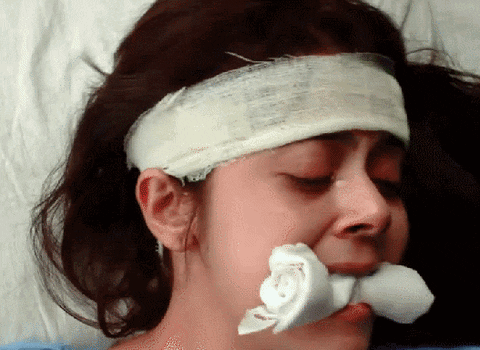 Saath Nibhana Saathiya is a precious gem from the Star Plus family.
4. This woman didn't think things through. Clearly.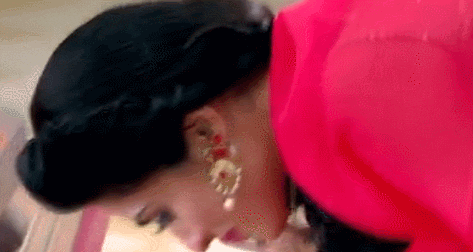 Sometimes, you forget how stupid people can be and then you watch some TV and realise nope, people can't be this stupid. If you couldn't quite catch that, that's 'Chor' written on her head (inverted). Guess how she covers it up:
Flawless. Except she is wearing a sleeveless blouse and a monkey cap at the same time. Did I say flawless, I will have to take it back.
This gorgeous discovery was made on Colors' Thapki Pyaar Ki.
5. Woman with very modest means of livelihood rocks a French manicure
Lol. I'll forgive them for this. Even Downton Abbey once forgot a plastic bottle on a mantel in a scene. Look:
Maybe the actress just got her manicure done and one stupid role ain't worth messing up her prim and proper nails. I wouldn't do it surely.
Check out Mere Angne Mein on Star Plus and see how many loopholes you can find.
Read: The absolute, most ridiculous stuff seen on TV this week, part 2