The absolute, most ridiculous things that happened on TV this week
Welcome to Indian television, where the plotlines are made up and logic doesn't matter. An ever expanding cesspool of all things generally deemed weird but here, are accepted with open arms. From naagins donning stylish gowns to 'creepy' family interfering with private lives, here are all the things we saw in our TV sets this week and tried hard not to punch a hole into it with our fist. Shame!
tv
Updated: Feb 07, 2016, 13:50 IST
Welcome to Indian television, where the plotlines are made up and logic doesn't matter. An ever expanding cesspool of all things generally deemed weird but here, are accepted with open arms.
The naagins and saperas have made a comeback on the small screen and we still can't get our heads around how humanity is letting this happen to itself. Fully alive human beings are going to actual hell just for the lulz and mothers are taking so much interest in their kids' love life that it crossed the threshold of 'creepy' a long time ago.
This is an intervention. Today, we have gathered here to shame these TV serials. We shame them for thinking us unfit for a more intelligent content, for shoving the same, drab shows in our face when the rest of the world is offering something so much better and also just for being so bad.
Here are all the things we saw in our TV sets this week and tried hard not to punch a hole into it with our fist. Shame!
1. Naagins in skirts. Actually, naagins in general
When we said we wanted some fantasy drama on TV, we did not have Naagin on our mind. Just some random words that are heard ever so often on the show should get you in the mood: Icchadhari, Naagmani, Sarpyoni Ratri and Icchadhari Yoni.
So the show starts with an extra doing the best she can in her five seconds of fame. She is supposed to die but maybe they paid her extra or something went bonkers but she acts ten times the amount that was required. She wheezes, she huffs and puffs, makes her eyes go super wide then her head drops on the side and her eyes close automatically. Classic Bollywood death.
Two naagins chase an apparent murderer and one of them changes her dress to a huge gown. Why was that necessary? If I were a shape-shifting naagin, I would do all my sleuthing in pyjamas and a hoodie. Sure that won't look charming but that will get things done better and faster.
There is an anniversary celebration and the husband gets the wife something as a gift. Woman unwraps it and asks "Ye koi roti banane ki machine hai kya". Well there goes feminism down the drain. What it was will shock you more. It was a weighing scale and hubby dear asks her to lose some kilos and get back to her 'sweet 16 figure'. The man in question has a beer belly, by the way.
Watch the Gurudev harp on and on about how 'naagon ko priye hai doodh, kintu yaad rakhna ki iss raat naagon ko doodh nai peena hai'. Naags be like, 'Shit, no drinks at the party? Why are we going anyway'.
You can watch Naagin from Saturday to Sunday on Colors at 8pm, if you are into that sort of a thing.
2. Woman goes to hell but makeup still on fleek

That's some new version of waterproof makeup, dear!
So in Sasural Simar Ka, Simar has been hanging out in pataal lok for about a month now. She seems to be walking on floor made of lava but her feet are still...ok? Her sari is intact, her hair still straight and flawless. Meanwhile, a day out in Mumbai will make your hair puff up like cotton candy. Maybe she is better off there.
It is criminal how bad the special effects are in this show. Watch the two ladies swoop and swoosh in the air trying to avoid pataali devi's attack. They may have edited out the cable but oh it is visible, to the mind it is.
Simar got hypnotised by the witch woman's words and tried to kill her hell-buddy Devika but it was nothing that could not be sorted out with some 'Devi Ma ka sindoor' fresh from the mandir. They sprinkle the sindoor on a statue of Simar, that is in a house in the human world, and woof! Simar is free of the spell and is apologising to the woman who she just tried to choke to death.
For more adventures down under, watch Sasural Simar Ka on weekdays at 7.30 on Colors.
That's my trishul: Han Solo.
3. Woman gets handed jail clothes, they fit her like tailor-made
Ishita gets arrested and put in jail for murdering a Mr Somebody on Yeh Hain Mohobbatein. The jailor may seem mean at first but truth be told, she was the only reasonable one of the lot. Ishita cries and cribs about literally everything: No I won't let you frisk me, no I won't give you my mangalsutra, no I won't eat... Oh lord! What if someone tried to choke you in the jail with that? How thick can you be?
They give her a nice, fresh sari and blouse and the blouse fits her like a charm. Meanwhile, an everyday-normal girl has to make a gajillion trips to the tailor to make it wearable.
That's some nice work, will you please share the tailor's contact?
Also, her husband Raman Bhalla makes for the best buddy any accused could dream of. The guy can make things work by just shouting a lot. The poor lawyer tells him, he can't get his wife out of jail until next morning but the devout husband can't hear 'no'. His strategy is to shout at the top of his lungs and it works. The lawyer gets him to some bigger lawyers and judges who are somehow still working in their full black coats and capes in the middle of the night. Does that actually happen?
But hey, this won't stop you from watching Yeh Hain Mohobattein on Star Plus at 7.30pm on weekdays.
4. Woman is way too involved in kids' love life
Here is some backstory for Yeh Rishtaa Kya Kehlata Hai: Akshara lost her eyesight for God knows what reason and suddenly gains it back, again, God knows why. The family is not the least bit concerned about getting her checked by a doctor, instead they hold a 'pooja' ceremony to celebrate. Seriously though, what if she goes blind while driving?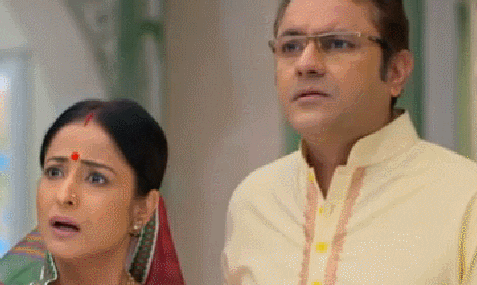 Now we are a little bit clueless ourselves but apparently Akshara's son broke up with his girlfriend and it is the entire family's business somehow. Bonus: The girlfriend never says 'break-up' through the entire episode, she says 'humara rishta khatam hogaya'. Ugh, how old are they anyway? They look not a day older than 15.
So yada yada, a crap-storm ensues and the kid, a total doofus by the way, broke up with the girl because of something her brother did. He even looks a little like King Joffrey Baratheon, if that helps you form opinions.
Make the same face as the people above and watch Yeh Rishtaa Kya Kehlata Hai at 9.30pm on weekdays.
The writer tweets @soumya1405
Follow @htshowbiz for more.
Thank you for subscribing to our daily newsletter.