Male shooter flees after killing 10 at Chinese New Year Lunar party in US
Jan 22, 2023 07:11 PM IST
United States shooting: The incident took place at 10.22 pm (11.52 am IST) after Chinese Lunar New Year celebrations.
Ten people have died in a mass shooting at a community near Los Angeles in California in the United States late Saturday, where a crowd of tens of thousands were celebrating the Chinese Lunar New Year, the Associated Press said Sunday. Los Angeles County Sheriff's Department's Captain Andrew Meyer said the wounded - some in critical condition - were taken to hospitals.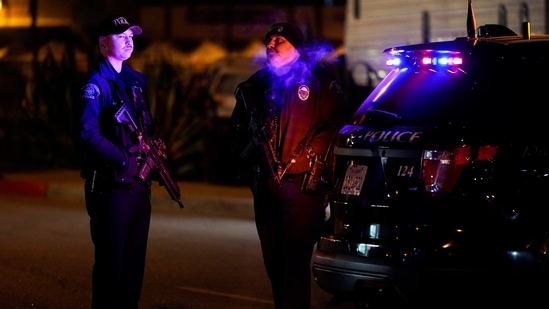 There is as yet no information about a motive nor a description of the suspect, Meyer said, adding, "It is too early to know if this was a hate crime…"
Earlier today the Sheriff's Department said 'homicide detectives are responding to assist Monterey Park PD with a shooting death investigation.
Reports quoted a female deputy as calling the shooting - which took place at 10.22 pm - an 'isolated incident'. Monterey Park - a city of about 60,000 people with a large Asian population - is about 16 km from downtown Los Angeles.
Seung Won Choi, who owns a seafood barbecue restaurant across the street from where the shooting happened - told the Los Angles Times three people rushed into his establishment and urged him to lock the door.
Choi said they told him the shooter had a machine gun with multiple rounds of ammunition, and that the shooting reportedly took place at a dance club.
Visuals from the scene that have surfaced on social media show a deserted crossroad with one section cordoned off and police sirens in the background.
Other images show people being taken away in ambulances to nearby hospitals and some sitting by the side of the road receiving medical treatment.
Edwin Chen, 47, rushed over from Woodland Hills on hearing the news. About a dozen family and friends live in Monterey Park. "This is [supposed to be] a happy time… I want to find out as much as possible. This is shocking," he said.
Hindustan Times cannot independently verify these visuals.
The Times said the incident took place sometime after 10 pm Saturday.
Journalists from news agency AFP - who were at the scene - said there was a large police presence and areas had been sealed with helicopters overhead.
"Our hearts go out to those who lost loved ones tonight in our neighbouring city, Monterey Park…" Los Angeles City Controller Kenneth Mejia tweeted.
Saturday was the start of a two-day Chinese New Year festival that is one of the largest Lunar New Year events in southern California.
The second day of the festival - Sunday - was cancelled after the attack.
Mass shootings are recurrent in the US - the country with the highest rate of private gun ownership in the world. The deadliest shooting in California history was in 1984 - 21 people were killed at a McDonald's restaurant in San Ysidro.
Over 44,000 died of gunshot wounds last year; more than half were suicides.
With input from agencies