Chinese police thrash BBC journo as local media blacks out people's protest
Updated on Nov 28, 2022 08:50 PM IST
The Chinese foreign ministry played down the incident, saying Ed Lawrence, did not reveal his credentials as a journalist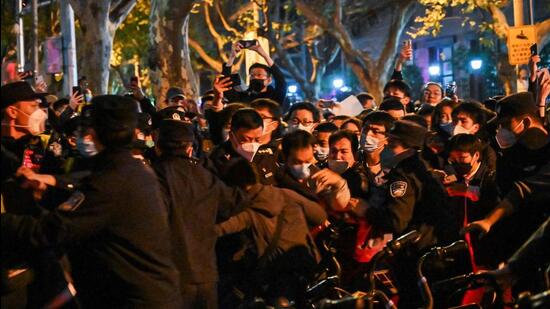 Beijing: A BBC journalist was beaten up and arrested while he was covering anti-government lockdown protests on Sunday night in Shanghai.
Ed Lawrence was detained at the main protest site in the city, Wulumuqi or Urumqi Road on Sunday night before being freed after several hours.
"It is very worrying that one of our journalists was attacked in this way whilst carrying out his duties," the BBC said in a statement.
"The BBC is extremely concerned about the treatment of our journalist Ed Lawrence, who was arrested and handcuffed while covering the protests in Shanghai. He was held for several hours before being released. During his arrest, he was beaten and kicked by the police. This happened while he was working as an accredited journalist," the BBC statement said.
The statement added that it did not find credible the explanation given by the authorities that he was held for his "own good" in case he caught Covid-19.
The Chinese foreign ministry played down the incident, saying Lawrence did not reveal his credentials as a journalist.
"We have noted that the BBC has issued a statement. According to what we have learned, the statement does not reflect what actually happened," Chinese foreign ministry spokesperson, Zhao Lijian said on Monday.
"Based on what we learnt from authorities in Shanghai, the journalist did not identify himself as a journalist and did not voluntarily present credentials. Local law enforcement officials were persuading people to leave. Those who did not were ushered away," he added.
While Chinese authorities are creating hurdles for the international press to cover the protests, its own media has totally blacked out the outpouring of people's anger across several cities and universities in China.
Chinese media, which is mostly Communist party-run or affiliated to the government, has ignored the widespread protests, going about doing official propaganda as usual.
On Monday, for instance, most news websites focused on the launch of the Shenzhou-15 spacecraft to its space station, slated for Tuesday night. Onboard will be three male astronauts: Fei Junlong, Deng Qingming and Zhang Lu.
Both the Communist Party of China (CPC) mouthpiece and official news agency, Xinhua, carried several editorials and opinion pieces on why the "zero-Covid" policy is best for the country without mentioning a word on the protests.
"To curb the latest Covid-19 resurgences across the country, Chinese authorities are implementing the newly-released 20 measures in a more targeted and scientific manner to ensure people's livelihoods," a Xinhua article said on Monday.
"The authorities have emphasised three general principles - always putting the people and their lives above everything else, sticking to the general strategy of 'preventing imported cases and domestic resurgences', and adhering to the general policy of 'dynamic zero-Covid'," another Xinhua article said.