Hafiz Saeed's JuD gets a new name with a Kashmir connection
Jamaat-ud-Dawa has rebranded under the new name of 'Tehreek Azadi Jammu and Kashmir', just days after its chief Hafiz Saeed was put under house arrest and a crackdown launched on the organisation's activities.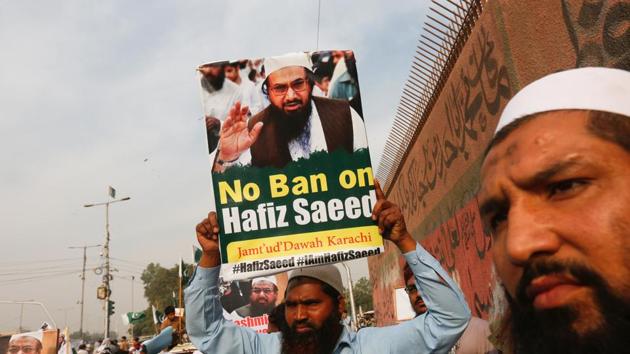 Updated on Feb 07, 2017 11:13 PM IST
Jamaat-ud-Dawa, a Pakistani charity linked to the 2008 Mumbai terrorist attack, has been renamed as a movement for Kashmir's freedom, a media report said on Saturday, barely a few days after its chief Hafiz Saeed was put under house arrest.
The Jamaat-ud-Dawa (JuD) and Saaed Falah-e-Insaniyat Foundation (FiF), another organisation floated by Saeed, were rechristened as Tehreek Azadi Jammu and Kashmir (TAJK) a few days ago, the daily Express Tribune said in a special report.
The US and UN Security Council had named JuD as a front for the Lashkar-e-Taiba (LeT), a militant group blamed for the Mumbai attack that left more than 160 people. Saeed had founded LeT in the 1990s but later distanced himself from it.
There were indications in the days leading to his arrest that Saaed was planning to rename the JuD.
FiF and JuD centres were closed down on January 30 after the detention of Saeed and four of his aides on charges of disturbing peace and security, though reports said the action followed a nudge from the US government. The Pakistani government has not officially commented on why it acted now.
The report said the JuD and FiF centres in Islamabad reopened on Friday, two days before the groups plan to hold rallies on Kashmir in major cities. TAJK banners related to Kashmir have also been put along major roads in the capital.
TAJK deputy general Khalid Waleed, a close relative of Saeed, admitted that JuD representatives were members of TAJK but said its leaders were Kashmiris. He, however denied that the organisation was a new avatar of the JuD or FiF.
The developments are likely to rile India which accuses Pakistan of doing little to bring Saeed to book along with LeT operations chief Zakiur Rehman Lakhvi.
Saeed, who carries a $10 million reward for information leading to his arrest, was placed under house arrest just after the Mumbai attacks but was released six months later when a court ruled there was insufficient evidence against him.
Saeed regularly addresses public rallies and news conferences to pledge his support for Kashmir's "independence".
Relations between the neighbours have soured over the past few months following a string of attacks on Indian military posts in Kashmir, allegedly by militants from Pakistan. Several Indian soldiers have been killed in the attacks.
In October, India announced its military had crossed the Line of Control (LoC) – the de-facto border– and carried out "surgical strikes" in Pakistan-occupied Kashmir and destroyed several terrorist launch pads. Islamabad refuted the claim.
On Friday, India's home minister Rajnath Singh said it cannot guarantee that surgical strikes won't happen in future as any such action will depend on the situation prevailing at that time.
"Pakistan is our neighbouring country. If they correct themselves it will be good, but if some terror attack takes place, we cannot guarantee that there won't be (more) surgical strikes in future. We don't want, but if situation demands, there is no second way," Singh said in Delhi.
(With inputs from agencies)
Close Story