Theresa May wants stronger India ties but unlikely to relax visa rules
May 31, 2017 06:16 PM IST
British Prime Minister Theresa May, who faces election on June 8, tells HT she wants to increase trade with India and strengthen ties but she is unlikely to give concessions on the visa front.
Prime Minister Theresa May is keen to build on the "very strong relationship" with India after Britain leaves the European Union, but it is unlikely that visa rules will be relaxed as promised by some members of her cabinet during the June 2016 EU referendum.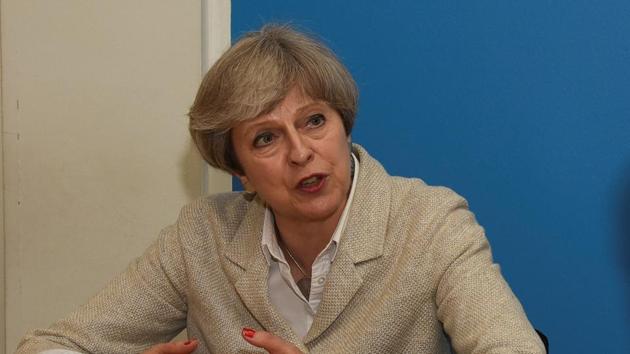 Less than two weeks before the June 8 mid-term election, the ruling Conservative Party continues to lead opinion polls, but the gap with Labour is narrowing by the day. May hopes to retain and increase the support of the 1.5 million-strong Indian community.
May told Hindustan Times on Monday that work was already on to ensure increased trade with India even before Britain leaves the EU, expected in mid-2019. She recalled having "lengthy discussions" on the issue with Prime Minister Narendra Modi during her visit to India in November 2016.
"I want to ensure that we build on the very strong relationship that we already have with India. I was very pleased to visit India last November with a trade mission…It's a hugely dynamic economy. I met fantastic businesses there," she said.
Migration, the bugbear
India has already indicated the mobility or visa issue will be one of the key issues in future talks on a free trade agreement, but May indicated there is unlikely to be any relaxation of rules. The Conservative manifesto also promises to "bear down" on non-EU immigration.
"We have already made quite great strides in what we have provided in India, with the priority services, which are now being extended to the type of visas they cover. We are helping people to get swifter and smoother process of applying for visa for coming to the UK," she said.
Leading lights of the pro-Brexit campaign had promised easier visa norms for India and other Commonwealth countries after leaving the EU. The multi-billion pound Indian food industry struggling with a shortage of chefs was particularly promised a "rescue" after Brexit.
May said: "We are maintaining our commitment to bring the levels of net migration down to sustainable levels…We always look across the immigration system to ensure that we are enabling, welcoming the best and brightest to some to the UK, but we are working to ensure that the system works fairly and properly for everybody."
During her India visit, May had linked improving the UK visa offer to the return of thousands of Indians who have no right to remain in Britain. The issue of illegal Indians is one of key issues between the two countries.
"The Home Office is discussing various ways in which that process (of returns) can be improved. It is something I have said internationally, that I think where there are people who are in a country illegally, they should be returned, but it is a question of getting a smoother process so that people aren't spending quite so long waiting to be returned," she said.
The caste law debate
Talking about an anti-caste discrimination law, which has divided the Indian community in Britain, May said: "I recognise the sensitivity on the caste issue; there is a consultation taking place. There was wording put into the relevant legislation in the House of Lords by Labour and Liberal Democrats working together on that, but I realise how sensitive this issue is."
May said if her government were returned to power, it will "look carefully" at the consultation results. The Conservative Party is seen to be closer to the influential Hindu-Sikh lobbies that oppose the anti-caste discrimination law.
May's predecessor, David Cameron, had promised to nominate candidates from the black and minority ethnic (BME) communities in 20 % of the seats where sitting party MPs were retiring, but this has not been reflected in candidate selection for the forthcoming election.
"We have some good BME candidates. This was a very rapid process of putting candidates in place because of the election being called at short notice. I have been heavily involved in doing a lot of work on getting more women as Conservative MPs and what we are looking at as a party is how we can perhaps use that experience and provide support to get more BME candidates in future," May said.
On the under-representation of minority communities in Britain's judiciary, armed forces and civil services, May said: "Under my predecessor as prime minister, there was a real push to increase diversity in judiciary. I know this is something that the current Lord Chancellor has taken up as well.
"The Indian community is a very important part of our society here in the UK. I want to see a country where how far somebody gets on is about their talents and their willingness to work hard, regardless of their background," she added.
The Conservative Party had five Indian-origin MPs in the last parliament and it has 14 Indian-origin candidates in the June 8 election. It released a video last week seeking the support of the Indian community through a Hindi song, using images of a saree-clad May visiting temples in India and the UK, and her meetings with Modi.
"Exciting news! Hindustan Times is now on WhatsApp Channels
Subscribe today by clicking the link and stay updated with the latest news!"
Click here!
Get Latest
World News
along with
Latest News
from
India
at Hindustan Times.