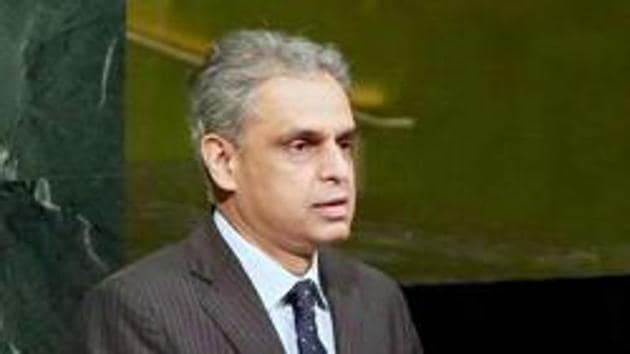 India looks to pile pressure on China, seeks overhaul of UN sanctions committees
China has repeatedly blocked India's efforts to get Jaish chief Masood Azhar declared a terrorist by the United Nations.
Hindustan Times, Washington | By Yashwant Raj
, Washington
UPDATED ON FEB 08, 2018 11:39 AM IST
With China determined to block any effort to get Jaish-e-Mohammad chief Masood Azhar declared a terrorist by the UN, India has launched a diplomatic drive for more transparency and accountability in the way the world body sanctions terrorists, or other entities.
The near-term objective of this ambitious project — a change of this kind at the United Nations could take 20 years or more — is to "raise the bar" for China, said an official familiar with the push, and make it difficult for Beijing to hold or block such an effort from the safety of anonymity.
India's permanent representative to the UN Syed Akbaruddin launched the drive Tuesday, as he questioned the functioning of sanctions committees, saying these formed the "subterranean universe" of the security council.
"Unlike in the security council, where vetoes are cast in public meetings and explanations made publicly, in the subterranean universe, no such practice exists," he said during a debate on the working methods of the security council.
There are 14 sanctions committees set up security council resolutions, each with an assigned target or set of targets. North Korea, for instance, is tasked to one of them.
The committee to designate terrorists is among them and China is preventing it from declaring Azhar a terrorist, which would cripple his ability to carry out terror strikes.
The Pakistan-based terrorist group has struck India a number of times and is particularly active in Kashmir.
"This subterranean universe functions in accordance with decision-making methods that are not the same as the normal functioning of this council," Akbaruddin said. "In fact, the principles of anonymity and unanimity reign in this subterranean universe."
These committees work on the principle of unanimity, which means each of the 15 members has a veto, and anonymous one at that.
Unlike the general assembly and the security council, the votes in these committees are not taken and tallied publicly.
Akbaruddin's hard-hitting speech is said to catch the attention of a large number of member nations that have not been impacted by terrorism but have invested in the questions of good governance such as ACT, a 27-member group of small and mid-sized countries that calls itself the "accountability, coherence and transparency group", and some European countries.
The Indian diplomat never once mentioned China by name, but there was no doubt who he meant.
New Delhi feels extremely frustrated by Beijing repeatedly thwarting the designation of Azhar, without offering a valid reason.
Beijing, batting for "iron brother" Pakistan, has been steadfast in its support of Jaish's chief, blocking proposals from India and separately from the United States (under President Barack Obama) along with its closest allies United Kingdom and France.
China has never explained its decision despite incontrovertible evidence of his involvement in terrorism — "all Beijing ever needed to do was Google it", a young Indian diplomat told this reporter once. The diplomat was reacting to Beijing's reported request for more information on Azhar.
Close