Prachanda resigns as Nepal Prime Minister while addressing nation on TV
Updated on May 25, 2017 12:29 AM IST
Prachanda announced his resignation during a televised address and will be submitting his resignation with President Bidhya Devi Bhandari.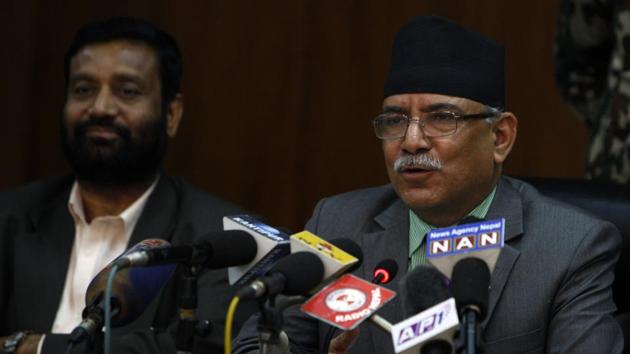 Hindustan Times, Kathmandu |
, Kathmandu
Anil Giri
Pushpa Kamal Dahal 'Prachanda', the Maoist rebel-turned-politician, resigned as Nepal Prime Minister on Wednesday, paving the way for Nepali Congress President Sher Bahadur Deuba to form the next government as per their agreement last year.
Prachanda, 62, who led a decade-long insurgency before entering politics, announced his resignation during a televised address, and will formally put in his papers to President Bidhya Devi Bhandari.
"I announce my resignation from the post of the prime minister today, right now, with a pledge to continue being active for the upliftment of the country and the people as a politician, parliamentarian and a citizen," Prachanda told his countrymen.
"I have decided to fulfil the commitment made to the Nepali Congress when I became prime minister. I am going to the president to tender my resignation right now," he said, while highlighting his government's achievements, which was in office for nine months.
For the time being, Prachanda will lead a caretaker government till 70-year-old Deuba gets parliament approval to form the new administration, which will be the 25th in 27 years. However, some observers pointed out that the process could take longer due to acrimony in the House.
Prachanda was earlier scheduled to address parliament on Tuesday before putting in his papers, but due to obstruction by the main opposition CPN-UML, he could not do so. CPN-UML opposed his resignation, alleging it was a violation of election code of conduct for him to quit in the middle of local-level polls, the second phase of which is scheduled for June.
Prachanda, who chairs the CPN (Maoist Centre), had reached an understanding with Deuba last August that he would step down as premier and hand over the leadership to him after nine months. The pact was to run the government on a rotational basis until elections to the parliament are held in February 2018.
Deuba is the same man who, as then prime minister, announced a $50,000-bounty for Prachanda's capture, dead or alive.
Prachanda was to hold office till local polls are held and remaining two elections – provincial and central - are to be conducted under Deuba.
The first phase of the local elections, which were held after a gap of two decades, took place on May 14, and the second phase is scheduled for June 14. (With inputs from agencies)