Ukraine interior minister, 3 children among 18 killed in Kyiv helicopter crash
Jan 18, 2023 03:37 PM IST
Russia-Ukraine War: Two children were among the dead and 10 of them were in hospital, officials said, as per news agency Reuters.
A helicopter crash near a kindergarten school outside Ukraine capital Kyiv has killed 18, including the country's interior minister, news agency AFP said Wednesday. Kyiv region governor, Oleksiy Kuleba said three children were also among those killed. "There is information about 29 wounded, including 15 children. All necessary assistance is provided to them," he said. According to British broadcaster BBC, the minister's deputy and another official also died.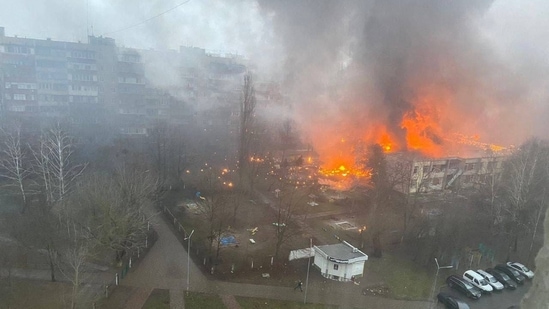 "A helicopter… crashed in Brovary. As a result… leadership of the interior ministry died," Igor Klymenko,the head of Ukraine's police service, said.
The interior ministry was led by Denys Monastyrsky, a 42-year-old father of two who was appointed to the post in 2021. His deputy was Yevgeniy Yenin.
Nine of those killed were onboard the emergency serviceshelicopter that crashed in Brovary, Kyiv's eastern suburb, news agency Reuters said.
The chopper crashed in the town of Brovary, which is located northeast of Kyiv.
In videos shared on social media, the crash site can be seen covered in flames and smoke as rescue operations are carried out. According to AFP the chopper went down next to a school kindergarten and a residential building.
Kira Rudik, a member of Ukraine's parliament, shared a video of the crash site.
Earlier, Oleksiy Kuleba, head of Kyiv's regional administration, said, "In the city of Brovary, a helicopter fell near a kindergarten and a residential building. At the time of the tragedy, children and employees were in the kindergarten."
READ | UK in 'no position to preach': Iran, cites Harry's Afghanistan claim
Russia and Ukraine fought for control of Brovary in the early stages of Vladimir Putin's invasion, which began in February last year. Defeated Russian troops withdrew from Brovary in early April.
The crash comes after 45 people including six children died when a Russian missile struck a residential building in the eastern city of Dnipro last week.