Poroshenko was due to travel to a NATO parliamentary assembly meeting in Lithuania as part of the Ukrainian delegation, and had received official permission to travel.

Ukraine war: Several parts in the war-torn nation have witnessed an escalation in fighting in the last few days.

The tax, which may be levied when oil prices, for instance, cross a certain level, will boost the government's finances, and help fund efforts to protect vulnerable sections from rampant inflation.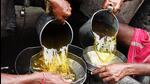 Ministry of Foreign Affairs of Ukraine took to their official Twitter handle to share a translated version of the poem that a soldier wrote as a reply to his daughter's letter.

Before gas prices spiked, India planned to reduce its carbon footprint by 33-35% of its 2005 levels by 2030, part of its commitment at the Paris climate conference seven years ago. India made a commitment at the COP-26 summit in November last year to achieve net zero carbon emission by 2070.