Sri Lanka MPs hurl chilli powder, chairs in Parliament commotion
Updated on Nov 16, 2018 06:41 PM IST
The pro-Rajapaksa legislators also threw objects at Parliament Speaker Karu Jayasuriya, Daily Mirror reported.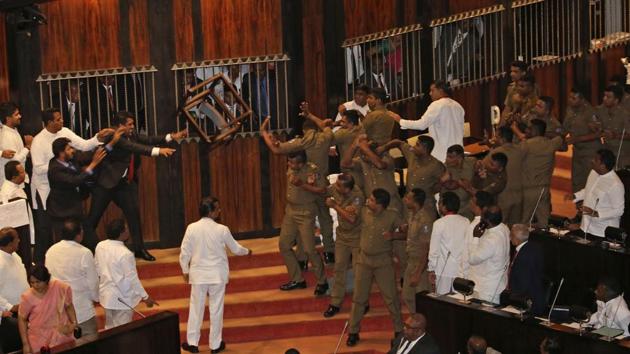 Colombo |
Indo Asian News Service
Sri Lanka's Parliament was disrupted for the second day on Friday with MPs allied to disputed Prime Minister Mahinda Rajapaksa throwing chilli powder at opposing MPs and hurling chairs at police officers even as the Assembly passed another no-confidence motion dismissing his government for the second time this week.
The pro-Rajapaksa legislators also threw objects at Parliament Speaker Karu Jayasuriya, Daily Mirror reported.
Despite the violence, the pro-Rajapaksa MPs failed to prevent the Assembly from passing a no-trust motion in his leadership on Friday, dismissing his government for the second time.
It was the latest violent incident in the crisis triggered three weeks ago when President Maithripala Sirisena suddenly sacked Prime Minister Ranil Wickremesinghe and installed former strongman Rajapaksa in his place.
The Parliament session was delayed for over 30 minutes on Friday as legislators protested around the Speaker's ceremonial chair. They called for the immediate arrest of two legislators from Wickremesinghe's United National Party, for bringing knives into Parliament a day earlier.
Amid the commotion in Parliament where several objects were thrown at the Speaker, over two dozen police officers entered the chamber with their arms linked, trying to escort him.
As Rajapaksa watched from his chair, his MPs attacked the officers with chairs and books, injuring at least two. Other legislators tipped the Speaker's ceremonial chair to the floor and dragged it across the ground.
Taking refuge on a side bench and surrounded by officers, Jayasuriya hurriedly called for a vote of no-confidence. He initially called for a "vote by name", but due to severe chaos and violence, he concluded the vote with a "voice vote".
The Speaker then announced that the motion had been passed and Parliament was adjourned till November 19.
Unlike the previous vote, however, Friday's motion omitted any reference to misconduct on the part of Sirisena. The change indicated that the President could recognise the motion this time and agree to terminate Rajapaksa's leadership, according to a report in the Guardian.
Rajapaksa's forces had already said they will reject Friday's vote. "We say Mahinda Rajapaksa heads the government," said Dinesh Gunawardena, a Rajapaksa ally. "We shall agitate for elections. The country is in anarchy. Parliament is in anarchy."
Sirisena, meanwhile, issued a statement on Twitter after the parliamentary session, urging all parliamentarians to uphold the principles of democracy and parliamentary traditions at all times.
He also said he would not prorogue Parliament under any circumstances.
Government spokesperson Keheliya Rambukwella told journalists after the incident that the government would not accept the vote as it was conducted in an "illegal" manner.
Wickremesinghe condemned the incident by legislators and said the government had been defeated.
Earlier on Thursday, the Parliament session had to be abandoned when MPs scuffled inside the chamber, requiring one to be hospitalised.
Outside the chamber, UNP and Janatha Vimukthi Peramuna party MPs Gamini Jayawickrama Perera and Vijitha Herath could be seen rubbing their eyes, with splotches of chilli splattered across their robes.
"They have behaved as beasts, not as human beings," Herath told reporters outside the chamber.
He wore a large bandage across his forehead, saying he got injured when an opposing lawmaker lobbed a copy of the Constitution at his head.
If recognised by Sirisena, Friday's no-confidence motion would leave the country without a Prime Minister. It was unclear if Wickremesinghe will be restored to his position by Parliament when it resumes on Monday.
British High Commissioner to Sri Lanka, James Dauris, slammed the "deplorable behaviour by some MPs in Parliament".
--IANS
soni/sed
Personalise your news feed. Follow trending topics