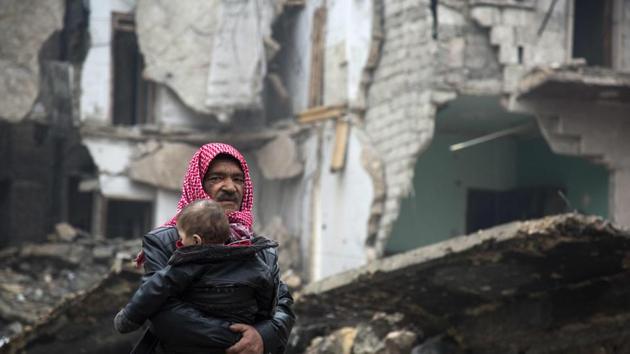 Syrians tweet 'last message' to the world in final moments of Aleppo battle
SOS messages pour in from Aleppo as Syrian regime forces attack the last rebel enclave before the city inevitably falls.
UPDATED ON DEC 14, 2016 08:33 AM IST
An end to a war is never celebratory, the aftermath is actually more grotesque. As the Syrian Army began its final step towards retaking Aleppo from the rebels, trapped civilians in the besieged city are bracing for the worst. Syrian Army took over the city after relentless bombardments by Russian airstrikes over the last few days.
On Tuesday night, a ceasefire deal was struck between the Syrian Army and the rebels, allowing the rebels fighters and their families to move to western part of the city but it did not mention other civilians evacuations.. A Syrian military source said the evacuation of fighters for the rebel-controlled western Aleppo countryside would start at 5 a.m. (0300 GMT) on Wednesday.
According to the latest UN briefing, more than 82 civilians have been killed by the Bashar Al Assad forces. While millions have fled Syria since the beginning of the civil war, some 5,000 fled Aleppo in past 48 hours and however still thousands of civilians are trapped with the fear of either being made Prisoners of War (POW) or brutally massacred. The threat largely looms over Aleppo residents as they post their final messages on social media.
"To everyone who can hear me," Syrian activist Lina al-Shami said in a video message, tweeted from Aleppo Monday. "We are here exposed to a genocide in the besieged city of Aleppo. This may be my last video."
Close