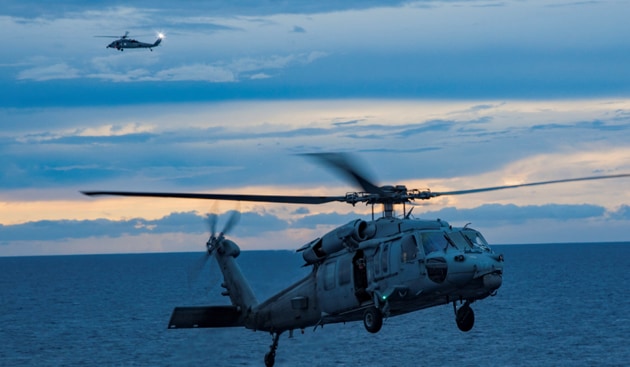 US approves sale of 24 MH 60 Romeo Seahawk helicopters to India for $ 2.6 billion
Designed for hunting submarines as well as knocking out ships and conducting search-and-rescue operations at sea, the Lockheed Martin-built helicopters, would replenish India's aging fleet of British-made Sea King helicopters.
Hindustan Times, Washington | By Yashwant Raj
UPDATED ON APR 03, 2019 09:58 AM IST
The United States on Tuesday announced it had cleared the sale of 24 MH-60R Seahawk choppers to India . The multi-mission helicopters can detect, track and attack submarines and surface ships.
A defense department agency that deals with the sale of US military equipment to foreign countries has notified Congress of the sale that will cost $2.6 billion, including other supporting equipment and ammunition, such as 10 Hellfire missiles, 38 advanced precision kill weapons system rockets; and 30 MK 54 torpedoes.
The proposed sale will support US foreign policy and national security "by helping to strengthen the US-Indian strategic relationship and to improve the security of a major defensive partner which continues to be an important force for political stability, peace, and economic progress in the Indo-Pacific and South Asia region", the US Defense Security Cooperation Agency (DSCA) said in a statement.
Also Read | India seeks to buy anti-submarine choppers 'Romeo' from US for $2 billion
The statement also noted that the helicopters will provide India the ability to "perform anti-surface and anti-submarine warfare missions along with the ability to perform secondary missions including vertical replenishment, search and rescue, and communications relay".
"India will use the enhanced capability as a deterrent to regional threats and to strengthen its homeland defense," the statement added.
Lockheed Martin's Lockheed Martin Rotary and Mission Systems will be the lead contractor on the deal.
India and the United States have been ramping up defense ties in recent years with joint military exercises, exchanges and exchanges. They held their first 2+2 ministerial last September, a simultaneous meeting for their defense and foreign ministers. They ended years of discussions and back-and-forth and signed two enabling agreement LEMOA (Logistics Exchange Memorandum of Agreement) and COMCASA (Communications Compatibility and Security Agreement) in recent years to improve interoperability between their militaries. And they are likely to sign the third, BECA (Basic Exchange and Cooperation Agreement) soon.
Defense trade between between the two countries has also shot up, and is expected to reach $18 billion this year from zero until a decade ago.
US department of defense leaders told lawmakers at a Congressional hearing last week that the strategic partnership with India had continued to advance at a "historic pace" and the militaries of the two countries were working to increase interoperability and information-sharing capabilities.
"The United States and India are natural partners on a range of political, economic, and security issues," said commander of the US Indo-Pacific command Admiral Philip S Davidson.
Close