US Election 2020 Updates: Would win unless Democrats 'steal' election, says Donald Trump from White House
Updated on Nov 06, 2020 05:47 AM IST
Democrats felt that their presidential nominee Joe Biden would claim the White House but Biden only held a narrow lead in some of the key states but there was no visible Blue wave.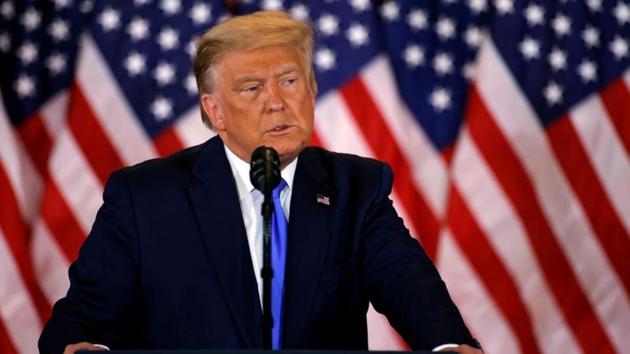 Hindustan Times, New Delhi |
hindustantimes.com
As the outcome of the US elections remain undecided an air of uncertainty prevails among both sets of supporters as they await the final results as vote counting enters Day 2.
The presidency still hangs in balance but that did not stop US president Donald Trump from declaring victory on Wednesday evening. The current trends show Joe Biden is inching towards securing the 270 Electoral College votes. Joe Biden has won 264 votes till now while Trump is at 214.
Click here for the complete coverage of the US elections
On Thursday, Trump threatened more legal challenges over results from Tuesday's election in a handful of states, claiming without any evidence that voter fraud has been committed in places where Biden appears to have won.
Here are the updates from the presidential race:
- If you count the legal vote, I easily win. If you count the illegal votes, they can try to steal the election from us....I have already decisively won many critical states....We won by historic numbers, Trump said. "We think we will win the election very easily. We think this is going to be a lot of litigation because we have so much evidence & it's going to end up, perhaps, at the highest court in the land....we can't have an election stolen like this," he added.
- Donald Trump says the US Presidential Election 2020 is being rigged, stolen.
- "Our goal is to defend the integrity of the election, will not allow his voters to be silenced," says Donald Trump. "On the track to win Arizona," he adds.
- President Donald Trump gives his remarks from White House." Would win unless Democrats 'steal' election," says Donald Trump from White House.
- President Donald Trump will deliver remarks at 6:30 p.m. eastern time (2330 GMT) on Thursday, the White House said, as the world waits for the voting results in a handful of battleground states from Tuesday's presidential election.
-New election results from the Nevada Secretary of State showed Biden's lead over Donald Trump to 11,787 votes, or roughly 1 percentage point. Democratic stronghold Clark County has drawn particular attention, reports Bloomberg.
-President Donald Trump threatened more legal challenges on Thursday over results from Tuesday's presidential election in a handful of states, claiming without any evidence that voter fraud has been committed in places where Democrat Joe Biden appears to have won, reports Reuters.
- Dozens of angry supporters of President Donald Trump converged on vote-counting centers in Detroit and Phoenix as the returns went against him Wednesday in the two key states, while thousands of anti-Trump protesters demanding a complete tally of the ballots in the still-undecided election took to the streets in cities across the US, reports AP.
- Amid the ongoing counting of ballots to decide the winner of the 2020 Presidential election in the United States, President Donald Trump took to twitter and wrote- 'Stop the count'.
-Katie Hobbs, the Arizona Secretary of State said that Arizona has just under 450,000 ballots left to count with nearly 300,000 of those coming from the most populous area of the state- Maricopa County. While speaking to NBC, Hobbs said she did not yet have an estimate about how long it would take to count the remaining votes, reports Bloomberg.
-According to the New York Times, nearly 60 people were arrested in Manhattan overnight as peaceful demonstrations took a violent turn. The incidents, which took place in the West Village and near Union Square, occurred after police attempted to break up crowds of protesters, the NYT said.
-Oil prices fell on Thursday as Democrat Joe Biden edged closer to the White House in a nail-biting U.S. presidential election. Brent crude fell 17 cents, or 0.4%, to $41.06 a barrel by 1135 GMT and US West Texas Intermediate (WTI) crude was down 28 cents, or 0.7%, at $38.87, reports Reuters.
- Democratic Presidential nominee Joe Biden is moving closer towards the 270 Electoral College votes needed to carry the White House securing victories in the "blue wall" battlegrounds of Wisconsin and Michigan. With just a handful of states still up for grabs, Trump tried to press his case in court in some key swing states, reports AP.
- China on Thursday hoped that the polling process would end smoothly and successfully adding there was a room for cooperation between the two countries despite differences. The US presidential election remained undecided Thursday evening, turning the nation's attention to a handful of battleground states that continue to tabulate the crush of mail-in ballots that will decide who will become the next President, reports PTI.
- Trump supporters chanting "Stop the steal!", and "Count my vote" gathered around Maricopa County Elections Department in Phoenix after hearing rumors that votes for the Republican president were not being counted deliberately. Some among the 200-odd protesters were armed with rifles and handguns and most of them were unmarked. The furore among Trump supporters sparked when Fox News network predicted that Biden would clinch Arizona.
- Portland police arrested 10 people after violence was reported from several areas in the city the night after the election day. The police also seized fireworks, hammers and a rifle after demonstrators took to the streets forcing Governor Kate Brown to activate the state's National Guard in response, according to Reuters.
-Democrats are shocked over Biden's loss in Florida and feel that they have failed to connect with the voters. Pollsters told the Associated Press that Joe Biden's campaign failed to create the enthusiasm among his electorates to go out and vote. Some observers also point out the fact that Trump campaign's labelling of Biden and the Democrats as a "socialist" made an impact on Cuban and Venezuelan Americans who have seen authoritarian and corrupt socialist regimes which forced them to immigrate to US decades ago.
- Biden winning Michigan and Wisconsin means that he needs to win one battleground state to secure a win. Biden has 264 electoral college votes and a win in one of the key-states would bring him closer to being a president-elect. Alaska, Arizona, Georgia, Maine, Michigan, Nevada, North Carolina, Pennsylvania and Wisconsin are yet to complete counting their ballots and final tallies in Nevada, North Carolina, Pennsylvania along with Georgia will impact the outcome.
- Trump supporters descended at vote counting center in Detroit demanding that election officials stop counting of the votes. Thousands of anti-Trump protesters have also taken to the street across several cities in US demanding that every vote be counted. Trump supporters also descended upon the Maricopa County election center and expressed their outrage on Fox News network for declaring Joe Biden winner. Arizona Republican and Trump supporter Representative Paul Gosar also joined the crowd and said, "We're not going to let this election be stolen. Period." according to Associated Press. Democratic Supervisor Steve Gallardo told mediapersons gathered at Maricopa County, "An accurate vote takes time. ... This is evidence of democracy, not fraud."
- Biden's lead over US president Donald Trump in Arizona has narrowed to 47% from 52% with more than 362,000 ballots left to process in the state's Maricopa County. The county has 2.6 million registered voters and is one of the most populous. It is one of the crucial fights for both Biden and Trump in the race to the White House.
-Trump's campaign team has filed lawsuits on Wednesday in Pennsylvania, Michigan and Georgia as the US president dropped his lead. The campaign team is also mulling to ask for a recount in the state of Wisconsin.
-Trump's campaign team has demanded Chatham County to ensure that late-arriving ballots remain uncounted. They filed a lawsuit in Georgia against the Chatham County Board of Elections.
-Christopher Bouzy, the creator of Botsentinel.com, a platform which detect disinformation on Facebook, Twitter and other social media websites, said that unauthentic Twitter accounts were propagating false information alleging that there was voting fraud and advancing Trump's allegations of improper counting of ballots.
-Republicans have upset Democrats hopes to decrease Republican presence in state governments but ended up losing ground as the GOP won majorities in New Hampshire and took back Montana. Republicans now have 27 of the 50 governorships in the country.
-Observers believe that if Biden could win Nevada, the race could take a decisive turn signalling victory for the former vice president. As Biden gained more votes than Obama - 71 million votes compared to Obama's which was about 69.5 million from 12 years ago, it showed Biden held the popular vote advantage as well as the lead in Electoral College votes, all eyes are set on Nevada which Hillary Clinton won in 2016. Nevada is expected to announce its results late on Thursday.
Personalise your news feed. Follow trending topics