Uneasy New Orleans braces for Isaac
Updated on Aug 28, 2012 08:17 PM IST
New Orleans braced for another big storm Tuesday, seven years to the day after Hurricane Katrina flooded the fabled jazz city and killed 1,800 across the US Gulf Coast.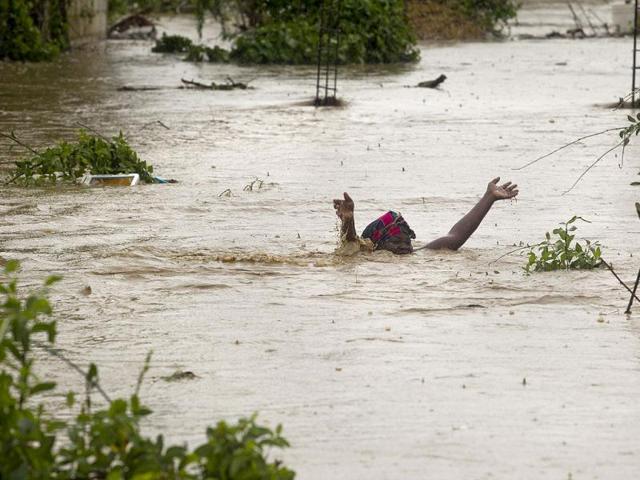 New Orleans braced for another big storm Tuesday, seven years to the day after Hurricane Katrina flooded the fabled jazz city and killed 1,800 across the US Gulf Coast.


The US National Hurricane Center said in its 1200 GMT advisory that Tropical Storm Isaac was on the verge of becoming a hurricane, warning of a "significant storm surge and freshwater flood threat to the northern Gulf Coast."
The Miami-based NHC predicted the center of the massive storm would be over the Louisiana coast by late Tuesday or early Wednesday, saying "preparations to protect life and property should be rushed to completion."

President Barack Obama, no doubt mindful of the bungled handling of Katrina by his predecessor George W Bush, on Monday declared a state of emergency in Louisiana, allowing federal funds and aid to flow to local authorities.
The president was to make a public statement at 10:00 am (1400 GMT) after convening a briefing with emergency management officials, hours before Isaac was expected to become a Category One hurricane.
Katrina left behind a devastating sprawl of destruction and death when it hit New Orleans on August 29, 2005, and a bungled response by the Bush administration was a black mark on his second term in office.
Thousands of people were left stranded on the roofs of their houses for days after Katrina's powerful storm surge smashed levees long-warned to be inadequate, flooding 80 percent of the low-lying city.
Those who managed to make it to dry land faced deadly violence and looting as a city famed for music, an easygoing atmosphere and Creole cuisine descended into chaos and officials failed to even provide water and food -- let alone security and medical aid -- to those suffering in the sweltering heat.
Officials insisted that the billions of dollars spent to reinforce the city's storm levees and pumps will protect the Big Easy from inundation, and Isaac is nowhere near Katrina's strength.
But Isaac will still pack powerful winds expected to knock out power lines and churn up a massive surge of sea water as much as 12 feet (3.7 meters) deep that will roll up across the Gulf Coast.
Mandatory evacuations have been ordered in a number of coastal counties in Louisiana and Alabama, where people typically build their homes on stilts.
The slow-moving and massive storm -- which is about 410 miles (670 kilometers) wide -- could dump as much as 20 inches (51 centimeters) of rain and spawn tornadoes, the NHC warned.
In New Orleans, the normally bustling French Quarter was eerily quiet late Monday as the first rain drops fell and winds picked up.
Bored bouncers peered out of empty bars and strip clubs along Bourbon Street as the few die-hard tourists staggered down the cobblestones. Many restaurants had closed, and some hotels told guests to check out by midday Tuesday.
Louisiana Governor Bobby Jindal, who has recommended voluntary evacuations, urged people to prepare for the worst.
"If you are in low-lying areas and are thinking about evacuating, today is the day to do that," he said Monday.
"If you plan on hunkering down at home, today is the day to get supplies. I strongly encourage people not to wait," added Jindal, who stayed away from the weather-delayed Republican National Convention in Tampa, Florida.
Those heeding the call included Tammy Edmondson, who looked anxious as she picked through the grocery shelves at a Target store with her daughter.
Edmondson said she left town ahead of Katrina and that it was a month before she could go home.
"We had a lot of damage -- we're still fixing some of it," she told AFP.
"That's why I'm starting to panic."
FEMA activated its National Response Coordination Center and deployed disaster response teams to Gulf states while Mississippi and Louisiana activated thousands of National Guard troops.
Isaac brought rain and choppy seas to the US coast after battering impoverished Haiti -- where 19 people died -- and Cuba over the weekend.
Personalise your news feed. Follow trending topics