India must address Vietnam's concerns in the South China Sea
Updated on Mar 01, 2018 08:13 PM IST
President Tran Dai Quang's visit marks 45 years of the establishment of diplomatic ties between India and Vietnam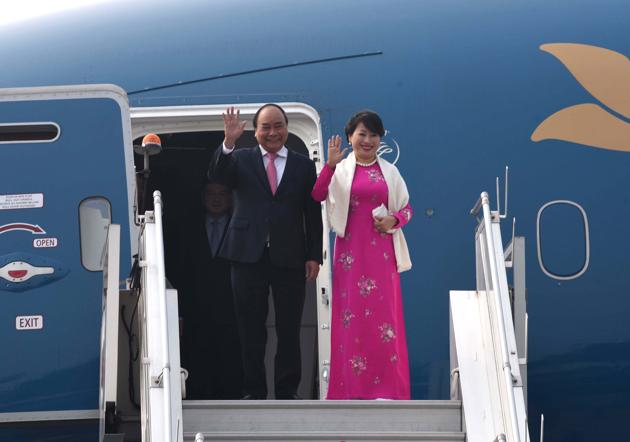 A month after M Nguyen Xuan Phuc, Vietnam's Prime Minister, attended the India-Asean Commemorative Summit in New Delhi, India is preparing to host Vietnamese President Tran Dai Quang. The visit marks 45 years of the establishment of diplomatic ties between India and Vietnam, and underlines the importance of a critical country in India's eastern neighbourhood. President Quang is second in the hierarchy of the communist party and is likely to take over as general secretary in a few years.
Notwithstanding the emphasis on developing closer political ties with Vietnam in India's foreign policy circles, the focus this time is likely to be on the possible enhancement of the bilateral defence and security relationship. New Delhi's strategic community sees Vietnam as one of India's closest defence partners in Southeast Asia. Since the signing of a Strategic Partnership Agreement in 2007, New Delhi has regularly provided Hanoi with military assistance, including the training of air force pilots and joint naval and coast guard exercises. The Indian navy has also offered to train Vietnamese submarine crews and collaborated in counter terrorism missions, even helping in the fight against transnational crimes and drug trafficking in the Bay of Bengal.
New Delhi's efforts to build Vietnamese military capabilities have been particularly noteworthy. Since 2013, when India first offered a $100 million credit line to Vietnam for the purchase of four patrol vessels, New Delhi has gradually increased the scope of its strategic assistance. In 2016, New Delhi facilitated a concessional line of credit of $500 million to procure defence equipment for the Vietnamese forces, also undertaking the refit of the latter's older Petya-class warships. Even the armies of India and Vietnam have improved cooperation, carrying out a six-day long military exercise in Madhya Pradesh last month, the first ever engagement of this nature between the two forces.
During Prime Minister Modi's meeting with ten Asean Heads of State last month, Hanoi readily endorsed maritime cooperation with India, in particular the agreement to establish a mechanism for coordination of security initiatives in the littoral seas. India's proposal to improve humanitarian and disaster relief and maritime transportation links found the eager backing of Vietnam, which also supported New Delhi's proposed anti-terrorism measures. Hanoi has also urged India to remains engaged in oil exploration of the coast of Vietnam, extending an Indian oil concession in the South China Sea.
And yet India and Vietnam remain far from aligned in the strategic arena. There is a growing sense in the Indian strategic community that Vietnam, like some other Asean states, finds India's Act East Policy strategically underwhelming. While it has often reiterated its support for freedom and navigation and commercial access, it has struggled to play a meaningful security role in the South China Sea. Amid a rapid build-up of Chinese military presence and massive reclamation of submerged features in Southeast Asia, Hanoi, like many other regional states, believes India hasn't contributed enough to the maintenance of the balance of power in nautical Asia.
Indeed, New Delhi has done little to dispel the impression that it has been indifferent to the maritime politics of Southeast Asia. In recent weeks, as China has sought to militarise reclaimed features in the Spratly and Paracel chain of islands in the South China Sea, building aircraft hangers, ammunitions storages, military bunkers and radar stations on its fortified islands, India struck to its rhetorical posturing on freedom of navigation and peaceful resolution of disputes. Beyond an agreement with Singapore on maritime logistics, New Delhi hasn't shown the willingness to step up its strategic engagement in Southeast Asia.
Even more significantly, India and Vietnam seem to have made little progress on strategic technology transfer. On the sale and delivery of the Brahmos cruise missiles, negotiations seem to have stalled, with indications that Hanoi is reconsidering the offer. India's refusal in August 2017 to acknowledge the sale of Brahmos anti-ship cruise missiles to Vietnam may have served to dampen Hanoi's spirits. New Delhi will be concerned that Vietnam is now contemplating a direct and cheaper purchase from Russia, with the promise of greater technology transfers.
India must quickly come to terms with the fact that Vietnam's concerns on the looming security crisis in the South China Sea will lead Hanoi to search for new partners. India has no option but to fortify its relationship with this key Southeast Asia state.
Abhijit Singh is senior fellow and head of Maritime Policy with the Observer Research Foundation
The views expressed are personal
Personalise your news feed. Follow trending topics