Through Bimstec, India and China must engage with smaller countries
Sep 04, 2018 11:49 AM IST
For Nepal, India has been the most important trading partner but Kathmandu's economic engagement with China has deepened in recent years
As Nepal hosted the fourth Bimstec summit last week, its geopolitical implications were glaring. It clearly pointed at regionalism that is in flux, with competing interests at play. For Nepal, whether it could make its mark in such a fluid situation, would depend on how it maintains a degree of autonomy in the India and China geopolitical race.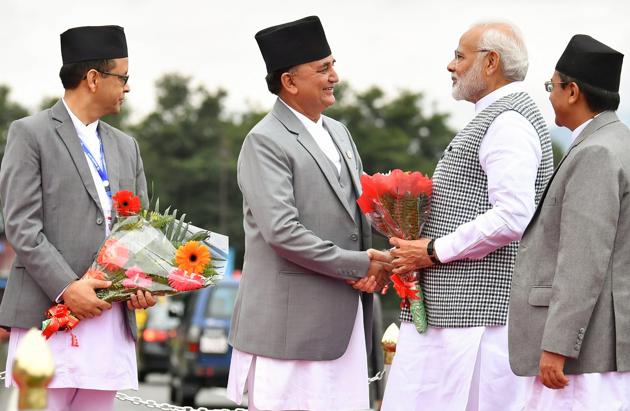 Nepal's Prime Minister, KP Oli, thanked visiting leaders from the six member states — Bangladesh, Bhutan, India, Myanmar, Sri Lanka and Thailand — for attending the summit at short notice. Unlike the Saarc summit held in Kathmandu in 2014, when the major roads were dug up and reconstructed, this looked every inch a hurried affair. Never an easy job during the monsoon, the potholes to the conference venue, the President's office and the airport were being plugged as guests arrived in Kathmandu. It was an audacious undertaking even by our brave standards.
But that hardly was a major concern. Nepal is currently the Saarc chair and the Saarc, headquartered in Kathmandu since its establishment in 1985, rests firmly in the Nepali public's imagination. To most Nepalis, Bimstec is still a vague regional grouping that puts distant Asean members (Myanmar and Thailand) together while some Saarc members (Pakistan, Maldives and Afghanistan) are left out. When Oli was elected the prime minister in February, the first head of the government to visit Kathmandu was Pakistani Prime Minister Shahid Khaqan Abassi. Abassi was here to solicit Nepal's good offices as the Saarc chair to get the long-stalled 19th Saarc summit in Islamabad off the ground.
In their summit address last week, no leader mentioned Pakistan, a south Asian neighbour, or China, now a south Asian player. But they were both conspicuous by their absence.
Connectivity was the buzzword at the summit. Buddhism was a binding force, with Sri Lanka, Myanmar and Thailand in tow. Nepal and India have sizeable Buddhist populations and Nepal takes a lot of pride in being the birthplace of the Buddha, a message Prime Minister Oli delivered repeatedly during the summit. Indian Prime Minister, Narendra Modi, said that India would host an international Buddhist conference in two years. The summit agreed to develop a Buddhist tourist circuit and a temple tourist circuit, and connect ancient cities in the region—a clear emphasis on deepening the common cultural values shared by the member states.
What happened on the sidelines was politically symbolic, too. The Indian and Nepali Prime Ministers signed a memorandum of understanding for a preliminary survey of a 100-km Raxaul-Kathmandu railway. Modi visited Pashupatinath temple, as he invariably does while in Nepal, where Oli and he jointly inaugurated a 400-bed Nepal-Bharat Maitri Pashupati Dharmashala.
In Kathmandu, public opinion on the Bimstec summit has been mixed. Many welcome it as an opportunity for Nepal to secure additional investments on connectivity and raise its international profile. But there is a broad consensus that the "India-led" regional grouping should not come at the expense of Saarc — a view echoed by the officials from other smaller Saarc member states. They are wary of the big-power rivalries between India and China and don't want to get caught up in the high-powered game.
For Nepal, India has been the most important trading partner but its economic engagement with China has deepened in recent years. In 2012, China overtook India as Nepal's largest contributor of foreign direct investment. Since 2015, a period when the Nepal-India border was blocked and the relations between the neighbouring countries were at a low point, the Himalayan country has actively sought Chinese assistance to strengthen its trade and transit relations with China. In May 2017, Nepal signed a Memorandum of Understanding (MoU) with China to participate in the Belt and Road Initiative (BRI) but the biggest breakthrough came this year in June when Oli visited Beijing. The two sides agreed to build the trans-Himalayan Kerung-Kathmandu railways. Though there are more than 50 flights a week connecting Kathmandu with Chinese cities, the railways are expected to be a game-changer in bilateral relations—a point made in the joint communiqué after Oli's visit.
Since the 1950s, China's primary concern in Nepal has been to prevent it from being used as a base for Tibetan activism. But the Chinese engagement has broadened in recent years. China wants to see that Nepal, like other smaller south Asian countries, becomes an important participant in the economic networks it is creating across Asia. India is doing the same with regional groupings such as Bimstec. How well does Nepal and other smaller south Asian countries balance these relationships will depend a lot on the India-China tango.
Akhilesh Upadhyay is a Kathmandu-based senior journalist who has written extensively on regional geopolitics related to Nepal
The views expressed are personal