All in a day's work: This artist is doodling the drama of daily life
Updated on Jul 15, 2017 08:50 AM IST
Through her doodles, illustrator and cartoonist Mounica Tata is talking about body shaming, feminism and colour politics.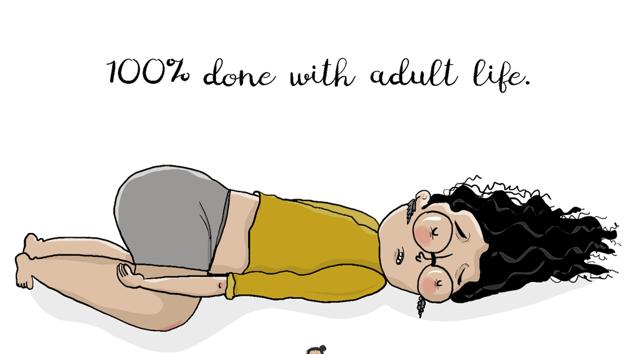 There are a lot of bittersweet, funny moments in our day-to-day life. For instance, you wake up and look in the mirror, and all you see are the imperfections — the double chin, the flab on your tummy, thunder thighs and underarm fat.
Or there is that moment when you decide to do yoga and lose fat. You motivate yourself, contort your body in gravity-defying poses ("Death is happening") and ironically eat a pack of chips afterwards to get over all the stress.
While some might chuckle at such daily struggles and let it go, self-taught illustrator and cartoonist Mounica Tata (28) decided to make doodles out her experiences.
Her Facebook page DoodleoDrama (77,983 likes) features comic strips that talk of feminism (the ideal girl takes less space and smaller bites), our expensive lifestyle (the price of a dress is the equivalent of "one kidney and lung only"), and colour politics ("Too dark, so dark! Nobody will marry you").
"I am glad to see that so many people (especially women) relate to the content I put out there. When I started seeing the responses, I realised that it's not just me and my experiences," she says.
Tata, who believes she is "rubbish with traditional art" decided to focus on doodling as it was a style that came to her naturally. "Doodling or cartooning helps me bring together the two things I quite enjoy; story-telling and drawing," she says.
Art was not Tata's first choice though; in fact, she has a Master's degree in Mass Communication from Christ University, Bengaluru.
"I come from an Army background and I was that kid who used to make handmade cards for friends and family. I started drawing comics when I was in college to kill time during boring lectures. It also helped me vent," says Tata. It was only a year ago that Tata decided to focus on her comics full-time and explore it as a career option.
While she doesn't plan to champion a cause through her comics, Tata is keen to start a conversation on certain issues. "Even if it changes nothing, I'll be glad if it sparks a conversation about things that resonate with us," she says.
Next up, Tata hopes to illustrate children's books someday and make graphic novels of her own.
Check out DoodleoDrama on facebook.com/Doodleodrama
Follow @htlifeandstyle for more
Personalise your news feed. Follow trending topics