Bidding star Hugo Weihe's journey: From Christie's to Saffronart
Updated on Jul 25, 2015 11:31 AM IST
When the former director of Asian art at Christie's tells you "everyone wants to do business with India", you believe him. Hugo Weihe on moving to Mumbai, and his passion for classical Indian art.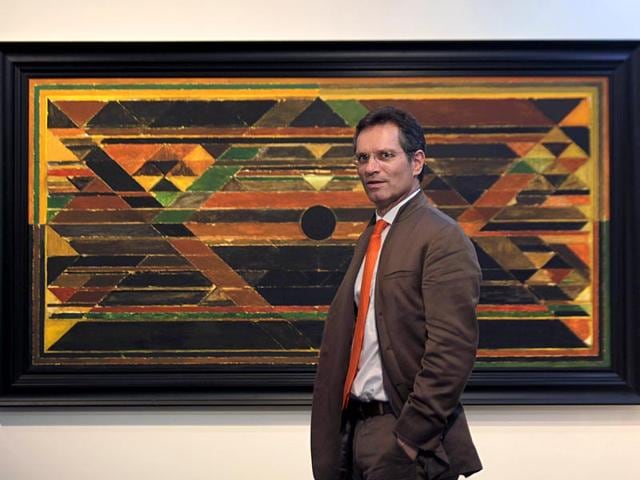 When we connect with Hugo Weihe over the phone, the new CEO of Saffronart (and former international director of Asian Art at Christie's), sounds upbeat. Known for his affable demeanour and in-depth knowledge of Asian art, Weihe will oversee Saffronart's presence in Mumbai, New Delhi, New York and London. He will also work towards building a market for Indian art and antiquities around the world.
Weihe's resume is impressive: he has a PhD in art history from the University of Zurich, has authored the book Die Ware Kunst (Art as Commodity) in 1989 and served as the publisher of Artibus Asiae, a scholarly journal on Asian art in the 1990s. He has also been an art advisor to big private collectors. In 1998, he joined the auction house, Christie's, and established the Department of Indian and Southeast Asian Art. In December 2013, as a result of Weihe's proposal, Christie's held its first auction in Mumbai.
How was the experience of joining Saffronart? What do you intend to focus on?
I have a fantastic team, I am thrilled to be here. CEO is a new role for me and I am excited to put my experience to new use, learn from the good things in the past and expand on what Saffronart has established. I will be shuttling between Mumbai and New York. We will have a sale to mark Saffronart's 15th anniversary on September 10 in Delhi, with a preview in Mumbai. We will also have an antiquities sale in Mumbai, in December. We are also planning a Saffronart flagship in Mumbai.
How did you get interested in art?
During my student years in Switzerland, I was fascinated with Indian art, especially the Pahadi miniatures. Indian art and miniatures remain an abiding interest even now.
Having studied the art of several cultures, especially of Asia, I find Indian art to be extremely human and emotionally expressive; it is easy to relate to. I appreciate the deep roots in philosophy, the parallel concepts of iconic and an-iconic (not portrayed in a form or image) representation, such as a Nataraja versus a linga; and the extraordinary sculptures all religions have produced, starting with Buddhism.
My focus is on expanding the art market, especially online, and on classical Indian art and antiquities, including miniatures and sculptures. They are cheaper compared to contemporary works but seldom get noticed.

Hugo Weihe's art picks: Untitled by MF Husain
What are your views on the current slump in the art market?
The modernists have held up well in this market. There is also money floating around. Art is considered a good form of investment, like real estate and stocks. Also, art can be moved freely across borders to places like London and New York, which is an advantage. It is mobile, it represents high value and is flexible.
Also, (as an auction house) we are a secondary market based on artwork collected by people from before. So, the market is already established. The contemporary art market is affected; as are galleries handling artists and nurturing their careers.
But internationally, everyone wants to do business with India. Compared to other markets, the Indian market developed quickly, within a decade. There are intelligent buyers and the growth has been faster than the rate at which the Chinese contemporary art market evolved.
Tell us about your family background, which also involves art.
I have an English grandfather and a German great-grandfather (from where I get my rare German surname), who were artists as well. Artists pick up ideas; they are conscious and curious, interested in all cultures. Nothing is black or white. While I was being trained by my grandfather, I realised how difficult it was to achieve artistic greatness and decided to focus on appreciating it instead.
What do you do in your spare time?
Art is a hobby as well. I have a large collection of art by Indian artists. I collect frames, which I believe, enhances a work of art. I also like to mix and match art by combining sculptural pieces with paintings. It enables a cross-cultural dialogue between works of art, across time.

Hugo Weihe's art picks: Untitled by Ram Kumar

Not many people know what happens at an auction house. How would you describe a typical work day?
It's not a routine job. You never know what the day brings. It can involve chasing a masterpiece, preparing the catalogue and getting ready for the auction. There is a certain adrenaline (rush) and sharing of great successes.
Which are the artists whose works you admire?
I like the works of modernists like Tyeb Mehta, SH Raza, Vasudeo Gaitonde, MF Husain, and Ram Kumar. But I am also looking to expand the field and focus on works by J Swaminathan and KH Ara.

Hugo Weihe's art picks: Atmaras by SH Raza

Under the hammer: Hugo Weihe's advice for the auction novice
* Compare prices of similar pieces and research the market price before buying.
* Talk to the specialists at the auction house; everyone is ready to give information.
* Once you make up your mind about the price, stick to it. But if it's a great work of art, it might be worthwhile to pay more. After all, what is the right price to pay for a great work of art? If it is unique, you may never find it again.
* While online art auctions may be effective, they are not a patch on the face-to-face viewer-artwork-auctioneer experience.
(The writer tweets as @SomaRKDas)
Images courtesy: Saffronart
Close Story
Personalise your news feed. Follow trending topics