Navratri 2017 day nine: How to worship the ninth form of Goddess, Siddhidaatri
Updated on Sep 29, 2017 09:59 AM IST
Devotees worship the Goddess as Siddhidaatri on the ninth day of Navratri. She is believed to be the governing force of fame, strength and prosperity. She holds a lotus, conch, gada and a sudarshan chakra in four hands and sits on a lotus flower.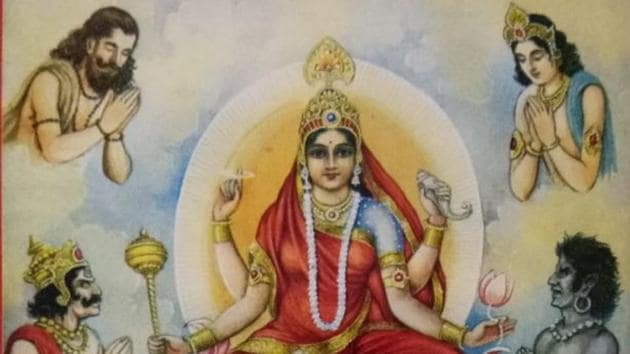 Different regions of the country have different ways of worshipping the Goddess and performing the rituals. Here, we talk about the traditions that originated near Banaras.
How to worship Ma Siddhidaatri: Devotees offer porridge, puri and kheer to the Goddess as prasad. They offer scented flowers and honey to the Goddess and chant "Om Cleeng Chamundaaye vicche namo namaha". They also recite the Durga Saptashati. Bengalis offer pushpanjali (handful of flowers) and saree or chunari (dupatta)to the Goddess. Navaratri is concluded with a hawan.
Kanya pooja: Some devotees observe kanya poojan on Nawami. Young girls (at least nine) are invited and devotees worship these girls as forms of the Goddess. They are offered clothes, fruits, money and a meal prepared in desi ghee.
Best time for the pooja: Navami tithi ends at 9:22pm on Friday. Devotees can offer the puja till this time. However, it is best to start the hawan before 11:25am.
Mythological story around Siddhidaatri Mata: Siddidaatri is believed to be the lord of all the Siddhis as per the Markandeya Purana - Anima, Mahima, Prakamya, Garima, Ishitwa, Laghima, Vashitwa and Prapti. Brahmavart Purana also mentions some other siddhis viz Sarvakamavasayita, Durshravana, Sarvagyatava, Parkaypraveshan, Srishti, Vaksiddhi Kalpvrikshatava and Sanharkaransamartaya .Devotees can achieve these siddhis by worshiping the goddess on this day.
What to eat and wear: Purple and blue are Devi Siddhidaatri's favourite colours, so devotees should eat blue or purple coloured food and wear clothes in these colours.
Follow @htlifeandstyle for more