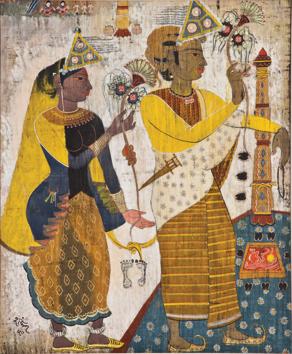 Sinners Divine: Revisit works by master artist Shankar Palsikar
Including a painting that broke the Indian tradition and let to the dawn of a new era
HIndustan Times | By Riddhi Doshi
UPDATED ON DEC 25, 2016 10:56 AM IST
In 1950, a young artist called Shankar Palsikar excitedly went to his art guru JM Ahivasi, the then dean of JJ College of Fine Arts, to show his painting Sinners Divine. It had won the prestigious gold award by the Bombay Art Society.
Palsikar was shocked at his teacher's response: Ahivasi was sad that a painting that broke Indian painting traditions had won an award.
What saddened Ahivasi actually marked the beginning of a new era in the Bombay School of art, says Suhas Bahulkar, director of National Gallery of Modern Art, Mumbai. "The painting introduced a new language, merged different aesthetics and used symbols to tell a story."
Read: You don't need formal training to be an artist; it comes from within, says Manu Singh
Palsikar (1916 to 1984) is called the father of contemporary art in Mumbai. To celebrate the centenary of his birth year, the NGMA has organised an exhibition of 60 of his works. Some are from the gallery's own collection, others are borrowed from collectors and the Bombay Art Society. Sinners Divine is up too.
"Ahiwasi was hugely influenced by the Rajput style of miniature painting and hence for him creating a good work would involve sitting in a certain way, then drawing fine lines and creating forms borrowed from Indian traditions only," says Bahulkar
Read: Bandra to get new Bollywood Art Project graffiti
You can see why Sinners Divine upset him. Yellow, the colour of the auspicious turmeric, is evident in the work that shows a newly married couple, standing at a distance from each other. But look closely. Their eyes are red. "This is a symbol of the burning desire to become one," says Bahulkar.
On the rectangle on the right you can see a sun and the moon indicating the eternal bond of marriage and that the husband and wife's vow to stay together in good or bad times. But at the same time the foot prints in the middle of the painting indicates that it takes a lot of work to make a successful marriage. "Here is a beautiful blend of traditions and a new, personal thought," says Bahulkar. "Even the figures are influenced by Egyptian art and not miniature style."
WHAT: An exhibition titled Shankar Palsikar (1916-1984) - "A Centenary year of Artist's Birth"
WHERE: National Gallery of Modern Art, Sir Cowasji Jahangir Public Hall, M G Road, Fort
WHEN: December 24 to January 31. 10.30 am to 6 pm. Closed on Wednesday
CALL: 022 2289-1969
ENTRY: Rs 10
Close