Asian Games 2018: Day 12 India schedule, when and where to watch, live coverage on TV, live streaming online
India men's hockey will look to book a final berth when they take on Malaysia in the semifinal.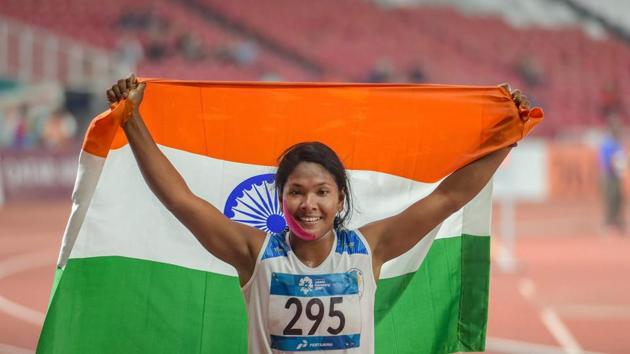 Updated on Aug 29, 2018 11:33 PM IST
Athletics was once again the big provider of medals for India as India bagged three more on an enthralling day of Asian Games 2018. Dutee Chand bagged another silver while Arpinder Singh and Swapna Barman won gold in men's triple jump and heptathlon.
Manjit Singh and Jinson Johnson who already have had a 1-2 will participate in men's 1500m final hoping for the same. Also in action will be men's 4*400m relay team in the final of the event.
India women's hockey team got the better of China in a tense semifinal to book a final berth against Japan and the men's team will look to do the same when they take on Malaysia.
Asian Games 2018 Day 12 Full Schedule:
ATHLETICS
4:30am: Men's 50km walk (Sandeep Kumar)
5:10pm: Women's discus throw final (Sandeep Kumari, Seema Punia)
5:50pm: Women's 1500m final (Monika Choudhary, PU Chitra)
6:50pm: Women's 4x400m relay
6:30pm: Men's 5000m final (Govindan Lakshmanan)
6:05pm: Men's 1500m final (Jinson Johnson, Manjit Singh)
7:10pm: Men's 4x400m relay final
BRIDGE
8:30am: Men's pair semi-finals (Pranab Bardhan/Shibhnath Sarkar, Sumit Mukherjee/Debabrata Majumder, Subhash Gupta/Sapan Desai )
8:30am: Women's pair semi-finals (Marianne Karmarkar/Hema Deora, Aparna Sain/Feroza Chothia)
8:30am: Mixed pair semi-finals (Bachiraju Satyanarayana/Kiran Nadar, Rajeev Khandelwal/Himani Khandelwal)
CANOE/KAYAK SPRINT
7:10am: Kayak four (K4) 500m men finals
7:20am: Kayak single (K1) 500m women finals (Soniya Devi Phairembam)
8:40am: Kayak double (K2) 1000m men finals (Naocha Singh Laitonjam and Ching Ching Singh Arambam)
9:10am: Canoe double (C2) 1000m men finals (Gaurav Tomar and Sunil Singh Salam)
CYCLING
7:30am: Men's omnium scratch race (Manjeet Singh)
7:50am: Women's sprint qualification (Aleena Reji, Deborah)
8:26am: Women's 3000m individual pursuit (E Chaoba Devi)
DIVING
12:50pm: Men's 1m springboard preliminary (K Ramananda Sharma)
NB: Final of the event is on the same day.
EQUESTRIAN
6:30am: Jumping individual final round 1 (Kaevaan Kevic Setalvad and Zahan Kevic Setalvad)
HOCKEY
4:00pm: Men's tournament semi-final (India v Malaysia)
JUDO
7:30am: Men's -81 kg elimination round of 32 (Harshdeep Singh Brar v Rajitha Pushpa Kumara Uwarapaksha Gedara of Sri Lanka)
7:30am: Women's -70 kg elimination round of 16 (Garima Choudhary v Gulnoza Matniyazova of Uzbekistan)
KURASH
12:30pm: Women -78 kg round of 32 (Jyoti Tokas v Prawanwit
Meesri of Thailand)
12:36pm: Men -90 kg round of 32 (Danish Sharma v Alfais Muhammad Dhifa of Indonesia)
12:48pm: Women -78 kg round of 16 (Amisha Tokas v Thi Lan Nguyen of Vietnam)
1:12pm: Men -90 kg round of 16 (Divesh v TBD)
SEPAKTAKRAW
3:00pm: Women's quadrant preliminary (India v Thailand)
SQUASH
11:00am: Women's Team Pool B (India v Hong Kong)
TABLE TENNIS
10:45am: Women's singles round of 32 (Mouma Das v Chen Szuyu of Chinese Taipei)
6:45pm: Women's singles round of 32 (Manika Batra v Nanthana Komwong of Thailand)
2:00pm: Men's singles round of 32 (Achanta Sharath Kamal v TBD)
7:30pm: Men's singles round of 32 (Sathiyan Gnanasekaran v TBD)
VOLLEYBALL
11:00am: Men's tournament qualification 11-12 (India v Myanmar)
How do I watch India's Day 12 Events live?
India's Day 12 Events will be telecast live by the Sony Network.
What time will India's Day 12 Events start?
The first event involving Indian athletes is scheduled to begin at 6:00 am IST.
Where can you follow India's Day 12 Events online?
All Asian Games 2018 Events will be streamed live on Sony Liv. For live updates, you can follow www.hindustantimes.com/asian-games-2018/.
Close Story
Personalise your news feed. Follow trending topics