Are Vijayakanth's absurd poll promises a deliberate act?
It's the election season in Tamil Nadu and poll promises are galore from political parties in the state.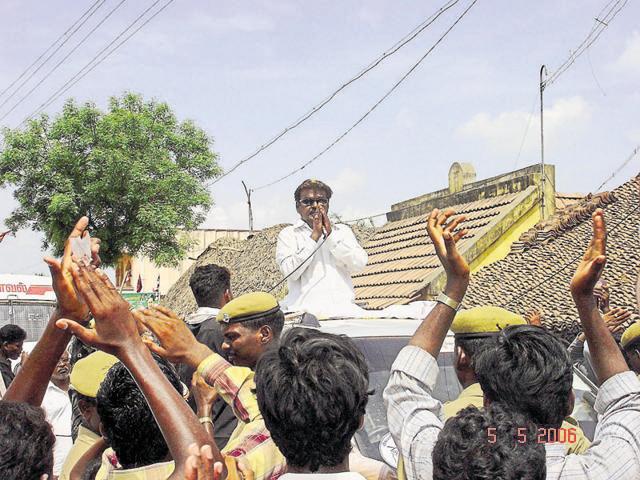 Updated on Apr 21, 2016 10:41 AM IST
Hindustan Times | By R Ramasubramanian
, Chennai
It's the election season in Tamil Nadu and poll promises are galore from political parties in the state.
It is common for parties to promise the moon to the voters. However, some try to follow a bit of logic while making these lofty promises and they also thrash out a way to implement them.
And actor-turned-politician Vijayakanth's Desiya Murpokku Dravida Kazhagam's (DMDK) election manifesto has created a record of sorts for the promises it made to the voters.
Vijayakanth, or Captain as he is called by his fans, is the chief ministerial candidate of the DMDK-People's Welfare Alliance (PWA) alliance for the upcoming Tamil Nadu assembly polls. The PWA has four major parties, namely the Marumalarchi Dravida Munnetra Kazhagam, Viduthalai Chiruthaigal Katchi, CPI and CPI (M).
However, both have different manifestos.
Now why did Vijaykanth make these promises? Is it sheer ignorance or is it a purposeful one to hoodwink the people?
Experts and political observers say such promises are made by politicians who disrespect voters and do not consider themselves politically responsible to their constituency.
"It is the politics of irresponsibility. For these sorts of politicians, political society is irrelevant. They think that they can say anything and get away with it. For them, there is no need to discuss this with anyone. There is no space for accountability for these sorts of politicians. They don't recognise people and respect them as a political constituency and they don't recognise that they are responsible to that constituency," Ramu Manivannan, professor of political science at Madras University, told HT.
Read: Is Vijayakanth really a deciding factor in Tamil Nadu elections?
Those who have been closely watching Vijayakanth ever since he took a plunge into active politics in 2005 agree with this theory.
"Vijayakanth is least bothered about intellectuals and those who are criticising these sort of promises. For Vijayakanth, those who criticise these promises were neither in the past nor in the present nor in the future his vote bank. His intention is to create an image which is 'I am for the poor and not at all bothered about the consequences of these promises'. Pro-poor image is very important. Not at all bothered about the impracticability of the implementation of these promises …" Ravindran Duraisami, a political observer and a lawyer, said.
"He also wants to send across the message which is I am ready to break the law for the welfare of the poor …It is an everlasting cunning political move and Vijayakanth is deliberately cheating the people," he added.
Duraisami further says there are people around him who know very well about the impractical nature of his poll and that there will be
Read: Captain vs Superstar: Vijayakanth's statements irk Rajinikanth's fans
Observers also say the voters themselves are to be blamed for this.
"In a way, the people should also be responsible for these sort of absurd promises emanating from political parties because these promises betray the political awareness of the masses … It lacks political integrity … they have eroded the system … the whole atmosphere is nauseating … these sort of manifestos shows the lack of political integrity …" Manivannan says.
In the past 10 years, election manifestos have brought in huge dividends to political parties in Tamil Nadu.
In 2006, the DMK promised free colour television sets and in 2011 the AIADMK promised free laptops, mixer-grinders, and ceiling fans and both of them reaped the benefits.
It is now the Captain's turn to try his luck with his 'lofty' promises.
Read: Political blockbuster: 10 times Vijayakanth bashed up rivals 'alone'
Close Story