Can 'outsider' Jignesh Mevani pull off the improbable in Gujarat elections?
Updated on Dec 12, 2017 09:03 AM IST
There is little doubt that Mevani is popular among the dominant Dalit and Muslim residents in Vadgam.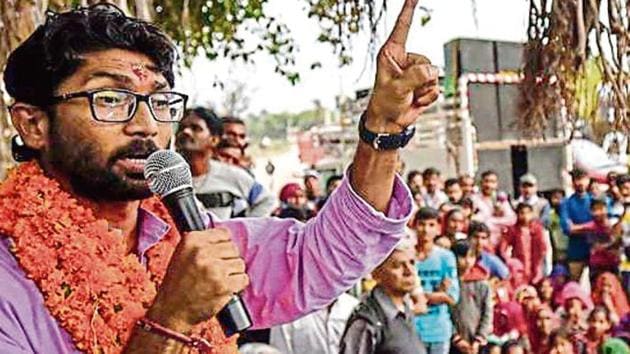 As Jignesh Mevani's car nears the meeting at Gola village in Vadgam constituency of Banaskantha district, fireworks go off and gulal rents the air.
Mevani is lifted by the gathered crowd and deposited on the truck-cum-makeshift stage for his 10-minute campaign speech even as women shower flowers on him. Mevani, the third of the generation next triumvirate along with Hardik Patel and Alpesh Thakore taking on the Bharatiya Janata Party (BJP) in Gujarat, represents the Dalits and is contesting as an independent from Vadgam constituency.
Campaigning for the last phase of polling on December 14, Mevani stops at 20-odd villages in his constituency every day. HT accompanied the young activist-turned-lawyer and now politician on five such pit stops on Sunday.
At every venue he is greeted by excited crowds, who backslap, hug and shake hands with him. Mevani mingles with the crowd before taking to the small stage set up under a peepal tree, outside a temple or the village centre. There is little doubt that Mevani is popular among the dominant Dalit and Muslim residents here.
"People say this is a safe seat. But, the battle here is between Vadgam and Vadnagar (Prime Minister Narendra Modi's home town). I am not just in a straight fight with the BJP candidate...I am in a fight with the BJP's might...its vile electoral machinery and lots of money,'' Mevani tells HT on route to a rally venue.
Vadgam, a reserved constituency, is a Congress stronghold and demographically a safe bet for Mevani. Out of nearly 2.60 lakh voters, 70,000 are Muslims while around 40,000 are Dalits followed by 30,000 odd Thakores and 5,000 Patidars among others. Mevani's election symbol is a sewing machine.
The symbol, he often tells the crowd, is a bid to stitch "vikas (development) that has not just gone crazy but is in tatters in the state." While the Congress is backing Mevani's candidature, its party rebel, Ashwin Parmar, is contesting the polls. Parmar is the son of former Congress MLA Dolat Parmar.
The presence of a rebel, his tag as an outsider and possible consolidation of remaining Hindu votes may test his chances. But Mevani is not deterred.
"I don't buy this outsider tag as my community has welcomed me with open arms...I am inspired by this growing consciousness of Dalit rights. What myself, Alpesh or Hardik have been able to do is expose this Gujarat development model that all of us have been victims of, despite contradictions within our different communities,'' says Mevani.
There is indeed a palpable sense of excitement among Mevani's supporters. At his party office in Vadgam or the headquarters, at a hotel an hour from the constituency, there is a constant queue of visitors.
"He is from within our community and it gives us a sense of pride...He is a fantastic orator.. .Have you heard him?" asks Vineesh Parmar, a 25-year-old engineer who has taken leave from work in Jamnagar to help out in Mevani's campaign.
"In this constituency, our vote counts and we are backing Mevani because we see in him a young leader who is not afraid to take on the system,'' says Irfan Habib from Gola village. The Gola village Muslim community collected ₹11,000 for Mevani's campaign.
The BJP on the other hand is counting on Mevani's tag as an outsider and the presence of a rebel candidate to swing the polls.
The BJP candidate, Vijay Chakraborty, is a local former road transport officer, who has also served on the Zilla Parishad as a member.
"Mevani is a Dalit icon for media and outsiders but not here. This is a reserved seat so all candidates are from the Dalit community. Our candidate has done work here among the people, as has our party. His (Mevani's) campaign is being run by JNU students and anti-nationals," says Dipak Pandya, head of the BJP's IT cell in Banaskantha.
There are others who feel the Congress may lose a sure seat by not putting up a candidate.
"Mevani is an outsider and he is wooing Muslims a bit too much. He is seen as anti-Hindu. If the Congress had put up a candidate he would have won, an independent may not," said Sakharam Modi from Chapi village.
Personalise your news feed. Follow trending topics