First, Congress and Patidars say quota deal sealed, then late-night clashes in Gujarat elections drama
On a busy Sunday ahead of the Gujarat elections, Patidars staged protest against the Congress, hours after the two sides claimed to have reached a quota agreement and the party released its first list.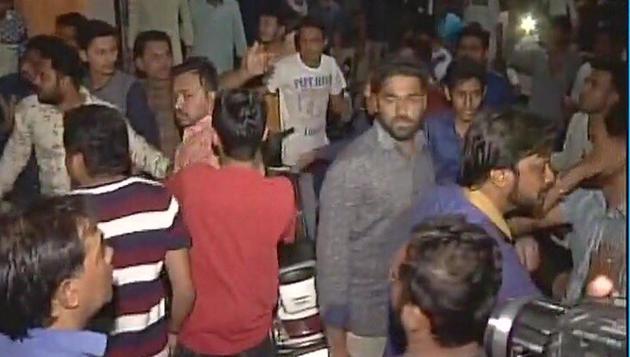 Updated on Nov 20, 2017 10:54 PM IST
A section of Patidar leaders threatened to withdraw support to the Congress on Monday after differences emerged over the opposition party's first list of candidates for Gujarat's elections next month.
Patidar leader Hardik Patel cancelled a rally in Rajkot where he was expected to make public an alliance between his Patidar Anamat Andolan Samiti (PAAS) and the Congress. Many members of his organisation staged protests against the opposition party, which allotted just two seats to the PAAS in a list of 77. The first phase of polls, when the Patidar-dominated Saurashtra votes, is on December 9.
"The Congress announced names of PAAS members in the list without our consent. We will protest against them. We will reconsider supporting those who are running away from their responsibility," said PAAS convener Dinesh Bambhania in Ahmedebad. Clashes broke out between Patidars and police outside the residence of Gujarat Congress president Bharatsinh Solanki in Ahmedabad. Dinesh Patel, another PAAS leader, alleged that they had to wait for hours outside before they were finally allowed to meet Solanki.
"All we want to ask him is why he declared our members' names," he told reporters, alleging that police abused and threatened to arrest him.
One PAAS member named in the list, Lalit Vasoya, ignored Hardik's instructions and filed his nomination. "Don't plunge so deep in politics that you forget martyrs. Also remember the promises," the 24-year-old leader tweeted, but didn't make it clear whether it was addressed to his outfit or the Congress.
Later, he tweeted lines of a poem written by former prime minister Atal Bihari Vajpayee. Loosely translated into English, it read, "Obstacles keep on coming, sky might be overcrowded by doom, embers beneath your legs, rain of fire on your head, but we have to set our hand on fire, we have to walk with each other, matching every step."
Bambhania also threatened to protest against PAAS members given ticket by the Congress if they filed nomination papers. But he faced opposition from within after PAAS Mehsana convener Narendra Patel — who earlier had alleged that the BJP offered him ₹1 crore to switch loyalties — alleged Bambhania has made a secret deal with either the BJP or the Nationalist Congress Party.
The developments laid bare the unease in the Congress and PAAS camps over protracted alliance negotiations.
Close Story