Very strong: Achuthanandan, Kerala's Left lion, keeps going at 93
Veteran Marxist leader VS Achuthanandan, known for his taciturn and inflexible disposition, is in the reckoning to lead Kerala, post the Left Front's emphatic win. The contest is between him and former protege and rival, Pinarayi Vijayan.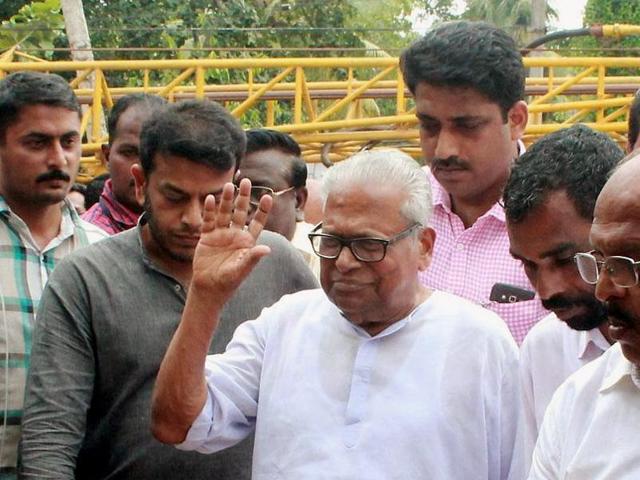 Updated on May 19, 2016 03:56 PM IST
Even at 93, VS Achuthanandan has a massive appetite for power. After notching up an emphatic win in the assembly election, the veteran Marxist leader is again in the reckoning to lead Kerala.
A school dropout, Achuthanandan, or VS as he is better known, does not have the intellectual depth of EMS Namoodiripad, the state's first Left Front chief minister. Nor does he have the charisma of former chief minister E K Nayanar. But, with his earnestness, he filled the vacuum after both left the scene.
He took up social causes, be it corruption, sex rackets, land encroachment or deforestation, and turned into a crusader and a media darling.
Taciturn and inflexible, VS often forgets that the party is above his personality. It often put him on a collision course with the CPI(M) and brought him close to being expelled. But each time his relations with the official faction of the CPI (M) hit a low, his popularity soared.
Read more | Achuthanandan says many enemies working to defeat him
In between fighting his own comrades, VS fought bitter battles with the high and mighty, such as the ex-chief minister K Karunakaran and former power minister R Balakrishna Pillai, over their alleged links to scams.
Even his advanced age was not a deterrent. He did drop out of the CPI(M) central committee, citing poor health, and was almost on the verge of retiring. But when Sitaram Yechury took over as the party general secretary, VS was catapulted back to prominence as the party's mascot in the state.
"His energy level is superb. We have to learn a lot from him," said Yechury.
Having beaten the Congress-led United Democratic Front in the polls, VS now needs to overcome a formidable challenge from Pinarayi Vijayan to become the chief minister again.
Vijayan was once his protégé and had helped him in the 1990s to cement his hold over the party. But Vijayan's own chief ministerial ambitions run contrary to that of his mentor.
Read more: Kerala CM Chandy's petition to restrain Achuthanandan dismissed
In the 2004 Malappuram state conference, Pinarayi humiliated VS by defeating all his nominees in the state committee. Soon, two powerful blocs emerged and both used all means to discredit each other.
Both VS and Pinarayi were denied assembly seats in 2006. Later, the party had to reverse its decision and accommodate VS after widespread protests broke out. When VS became the chief minister, Pinarayi filled the cabinet with his aides to seek revenge.
But allegations of corruption hurt Pinarayi, who was power minister in 1997 when the SNC-Lavalin power deal was signed, an agreement in which the state allegedly lost crores.
More than the Congress, VS was at the forefront of the attack against Pinarayi, who was later made an accused in the case. Interestingly, VS was the LDF convener when the deal was signed and he supported the move.
When the court cleared Pinarayi two years ago, VS also came around. But both still nurse uneasy relations.
Close Story