Linking benefits for AIDS patients to Aadhaar triggers privacy concerns
Updated on Apr 03, 2017 12:34 PM IST
Many patients are avoiding going to hospitals and ATR centres fearing mandatory submission of their Aadhaar number could lead to disclosure of their identity, inviting social stigma.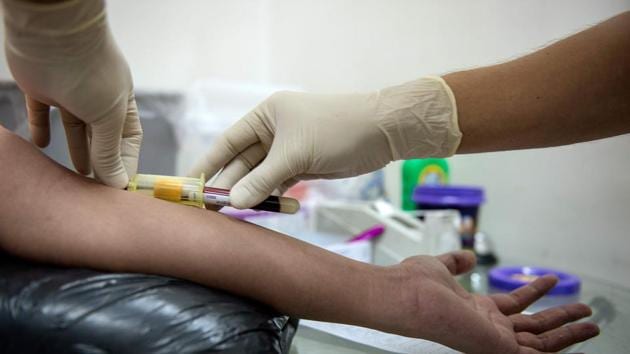 Linking people living with the HIV/ AIDS with Aadhaar cards has allegedly driving away patients from hospitals and antiretroviral therapy (ATR) centres in Madhya Pradesh.
The patients feared that the compulsory submission of Aadhaar card to get free medicines and medical check-ups under a government's AIDS control scheme, could lead to disclosure of their identity, inviting social stigma.
The Aadhaar is a 12 digit unique-identity number issued to Indian residents based on their biometric and demographic data collected and maintained by the Unique Identification Authority of India (UIDAI).
As per health department sources, the MP State AIDS Control Society made Aadhaar card number compulsory from February this year for those affected by the virus to get free medicines and treatment in accordance with the Central government's policy making the submission of 12 digit identity number mandatory to avail benefits of any government scheme.
The National AIDS Control Organisation (NACO) has also recently written to ART centres to link all people living with the HIV/ AIDS with Aadhaar cards for effective monitoring and to avoid duplication.
Health activists, however, said that while issuing the directive the society did not take into account the negative fallout of the move.
Sources said many patients and suspected victims started avoiding ATR centres and district hospitals after the new rule came into effect.
"Aadhar card is linked to so many things, including even the bank account. How can I be assured that my identity would not be disclosed? I would rather go to a private hospital. It's daunting for a person like me who has come here for the first time just to rule out my doubts related to the infection," said an engineering student, who was at the Bhopal district hospital for a test.
Even evaluators at the state's AIDS Control Society find justification in the apprehension.
"During evaluation, we find employees at the centres disclose identities of patients without any hesitation. When they can easily disclose it to me, how can I expect they would not pass on the information to others? Even, patients lodged complaints of facing social stigma because of disclosure of their identities. The linking of Aadhaar with the health scheme will only add to their woes," said an evaluator, requesting anonymity as he is not authorised to speak to media.
Officials of the society, however, refused to pay much attention to the concerns raised by the patients on the ground that the linking was imperative for effective monitoring.
"Aadhaar is being made compulsory for everything. So, I don't think there is any problem to make it mandatory for AIDS patients too," said Savita Thakur, joint director of the society.
"We want the entire system to be centralised and to provide the benefits under social protection schemes to the AIDS patients. It helps us in monitoring their health. Many a time, patients give wrong addresses, making it difficult for us to track them later. The Aadhaar linkage will eliminate such problem," she added.
She assured protection of patients' identity would be paramount and said counsellors were asked to convince patients about it.
Health activists are not convinced. They cited most of the suspected-patients get themselves examined anonymously.
Social worker Sudheer Bhargava, who is working for the welfare of AIDS patients for the past two decades, said, "When government claimed that identity of a patient would not be disclosed to even his/her spouse then why should they ask for the Aadhaar card."
Such a situation might trigger a major problem in the society in future as AIDS patients would prefer not to be treated and it would be detrimental not only to their health but also to the society, he added.
Social activist Rakesh Diwan questioned the legality of the move pointing out that even the Supreme Court has ordered the Aadhaar card could not be made mandatory for availing benefits of government schemes.