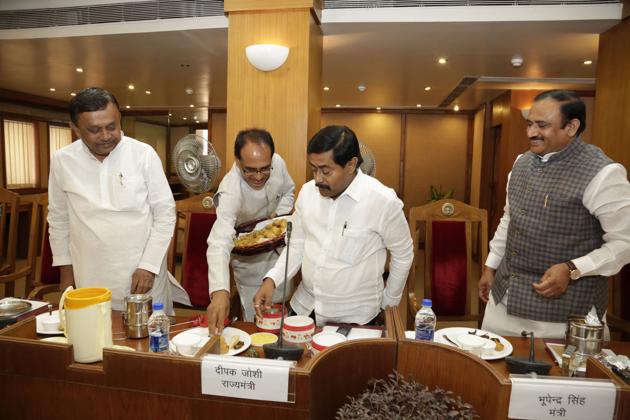 Madhya Pradesh sees 'tiffin cabinet meet'
We have heard of a kitchen cabinet but Madhya Pradesh saw a tiffin cabinet meet on Tuesday as all the ministers including chief minister Shivraj Singh Chouhan brought tiffin boxes from their homes and had lunch together
Ranjan, Hindustan Times, Bhopal | By
Ranjan
PUBLISHED ON MAY 02, 2017 09:32 PM IST
Bhopal: We have heard of a kitchen cabinet but Madhya Pradesh saw a tiffin cabinet meet on Tuesday as all the ministers including chief minister Shivraj Singh Chouhan brought tiffin boxes from their homes and had lunch together.
CM had already instructed the ministers to come with tiffin boxes as the cabinet meet was supposed to be a marathon one as conveyed to the ministers.
As per official sources, the concept of bringing tiffin boxes by the ministers was introduced by the happiness department to start a new work culture in the state.
"We were reminded of our school days. This unique experiment of bringing tiffin from our homes was full of joy", tweeted chief minister Shivraj Singh Chouhan after the meeting and posted a photograph on his twitter page.
He also made an appeal to his ministerial colleagues to go ahead with this experiment and make it a tradition", said the CM.
The state government's spokesperson and parliamentary affairs minister Narottam Mishra said this was really a unique experiment and all the ministers enjoyed the moments having lunch together from their tiffin boxes brought from home. This was the first time when such an experiment was done.
Close