MP: Cop accused of threatening Vyapam scam whistleblower
Oct 20, 2015 01:17 PM IST
Ashish Chaturvedi, the youngest whistleblower in the Madhya Pradesh Vyapam scam, complained to home minister Babulal Gaur on Monday that a police officer has told him to refrain from levelling charges against high-profile people – failing which he would have to "face the consequences"
Ashish Chaturvedi, the youngest whistleblower in the Madhya Pradesh Vyapam scam, complained to home minister Babulal Gaur on Monday that a police officer has told him to refrain from levelling charges against high-profile people – failing which he would have to "face the consequences".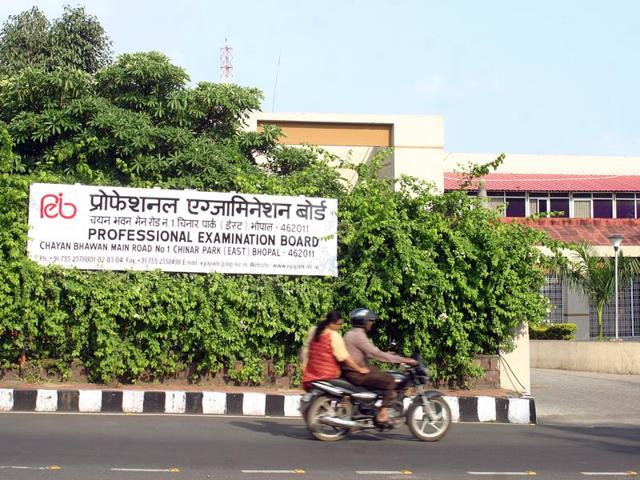 He said Alok Bhadoriya, town inspector with the Jhansi Road police station, had earlier threatened to frame him in fake cases.
Stay tuned with breaking news on HT Channel on Facebook.
Join Now
Chaturvedi alleged that every time he levels charges against any high-profile individual or raises an issue involving the powerful, he is either attacked or threatened. The whistleblower added that he fears these incidents occur in connivance with the police.
Chaturvedi, who was attacked at least seven times after he exposed the pre-medical test scam, has been provided security on judicial orders.
However, he has repeatedly told the court that the guards provided to him were not giving him security cover.
In his complaint against Bhadoriya, Chaturvedi said that the police officer had came to his house around 9 pm on Sunday and threatened him of dire consequences if he continued to issue statements against high-profile persons.
The whistleblower said the police officer was probably referring to the corruption charges he had levelled a few days ago against Dr SS Ainger, the former superintendent of Jayarogya hospital in Gwalior, and how his proximity to chief minister Shivraj Singh Chouhan had resulted in his transfer getting stalled.
Bhadoriya denied Chaturvedi's allegation. "The complaint is fake. I had only gone to his house to see if our guard deployed at his house for security was there or not," he said.
The town inspector did not deny speaking to Chaturvedi. "Haan, hello hui thi. I asked him how he was, and told him to take his guards into confidence before going anywhere. Otherwise, they keep searching for him. That's all."
Chaturvedi said that Bhopal-based neurologist Dr ID Chaursia had also threatened him when he sought documents related to his recruitment. He claimed that despite lodging a police complaint, the doctor was not even interrogated.
Chaturvedi urged the home minister to install CCTV cameras in his house, so he would have evidence if anybody attacked him.
"When I told Bhadorita that I would lodge a complaint against him, he asked me what evidence I would give them in this regard. Since the security guards provided to me remain largely absent, CCTV cameras could offer a degree of deterrence against verbal or physical attacks on me," he said.
Home minister Babulal Gaur said Ashish's complaint has been taken seriously, and he would be protected at all costs.