Muslim elders from Bhopal to visit families of slain SIMI operatives
A group of Muslim elders and leaders from Bhopal will soon visit families of six SIMI operatives from the state killed by police in an alleged encounter, along with two others, on October 31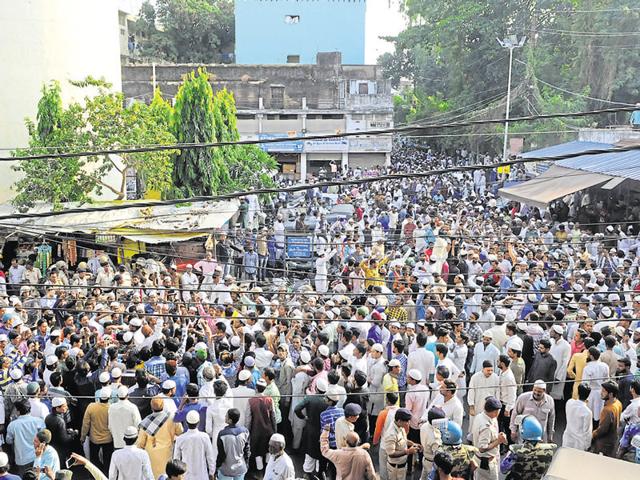 Updated on Nov 06, 2016 08:55 PM IST
Hindustan Times |
, Bhopal
HT Correspondent
A group of Muslim elders and leaders from Bhopal will soon visit families of six SIMI operatives from the state killed by police in an alleged encounter, along with two others, on October 31.
The other two SIMI operatives shot dead in the "gun battle" were from Gujarat and Maharashtra. The eight were killed at a hillock at Manikhedi on the outskirts of Bhopal, hours after they escaped from the high-security Bhopal central jail.
Five SIMI operatives namely Amjad Khan, Mohammad Aqeel Khilji , Mehboob Guddu , Zakir Hussein and Mohammad Saliq alias Sallu, were from Khandwa. The other operative from the state, Abdul Majid, hailed from Mahidpur town in Ujjain district. They were buried in their respective home towns on Tuesday.
The group would pay visits to Khandwa and Ujjain to console the bereaved families and interact with them, said Masood Ahmed Khan, secretary of the Madhya Pradesh unit of the Coordination Committee for Indian Muslims (CCIM).
He said they were also exploring legal options so that "victims of the encounter get justice."
The families of the slain operatives had earlier talking to HT alleged the encounter was fake and demanded a high-level judicial inquiry or a CBI inquiry into the incident.
Many Muslims groups in Bhopal, including the MP unit of the CCIM, too alleged the encounter was stage- managed and demanded a probe by a sitting judge of the Supreme Court.
They said there were many loopholes in the police versions of the incident.
The visit of the Muslim elders assume significance in the wake of a SC guidelines that states: "If the family of any victim finds that all the SC guidelines have not been followed or there exists a pattern of abuse or lack of independent investigation or impartiality by any of the functionaries, it can make a complaint to the Session Judge having territorial jurisdiction over the place of incident".
The case pertaining to the encounter, observers said, could take a new turn based on the stand the families take during their meeting with the Muslim leaders.
On Friday Muslim groups were denied permission by Bhopal administration to hold a public meeting at the city's Iqbal Maidan. Later several members of the community gathered at Tarjume Wali mosque and demanded justice for the "boys."
They also announced to hold a massive meeting over the incident soon.
Close Story