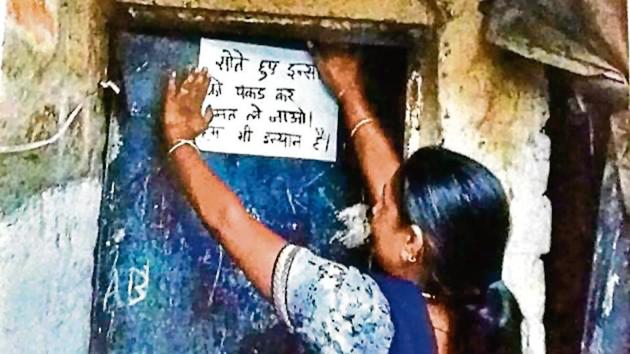 Tribal woman's death after alleged police harassment sparks protests in Bhopal
The 25-year-old woman from the tribal Pardhi community set herself on fire after being allegedly harassed by the police
PUBLISHED ON NOV 21, 2017 11:09 AM IST
The death of a 25-year-old woman from the tribal Pardhi community, who had set herself on fire after being allegedly harassed by the police, on Monday triggered a protest in Madhya Pradesh's capital Bhopal.
Indira Bai, a resident of Nai Basti in Gandhi Nagar area of the city, had accused three policemen of threatening to implicate her in a case of theft unless she paid Rs 20,000.
Members of her community, activists and the Aam Admi Party (AAP) protested in front of the Gandhi Nagar police station demanding action against the three policemen named by her.
The protest turned violent after stones were pelted from both sides and the police used force to disperse the mob. The AAP's convener Alok Agrawal and half-a-dozen other people were arrested after the violence.
Read: India must scrap the law that tags some tribes as hereditary criminals
Activist Shivani Taneja said the police had booked the two brothers of Bai under the arms act and sent them to jail about 10 days ago after they refused to give money to the policemen. They have named the two officials in their complaint.
The police, on their part, have said the two men were booked by them but differ on how she got burnt. According to the Gandhi Nagar police, Bai's sari caught fire when she was setting fire to garbage in front of her house. They denied that any policeman was demanding money from her.
Additional superintendent of police Samir Yadav told the Hindustan Times that in her initial statement to the local sub-divisional magistrate she had said she got burnt while setting fire to garbage but changed her statement to "exert pressure".
"The victim was in an inebriated condition when she got burnt. She has eight criminal cases against her and it is natural for the local police station cops to keep tabs on her," Yadav said.
Senior officials have ordered a probe in the matter.
Taneja, a representative of a local NGO who works among the tribals, said that the police have always targeted the Pardhis living in Nai Basti.
"Some of the Pardis might be involved in criminal activities but cops from the Gandhi Nagar police station routinely come and take bribes from them as the entire community has a bad name and are vulnerable," she added.
The Pardhis were classified as a "criminal tribe" by the British and the police were given sweeping powers to arrest them and watch over their movements. The tribe was denotified in 1952 by the government but it has not changed people's perception of its members, who continue to be stigmatised and live a life on the margins.
Close