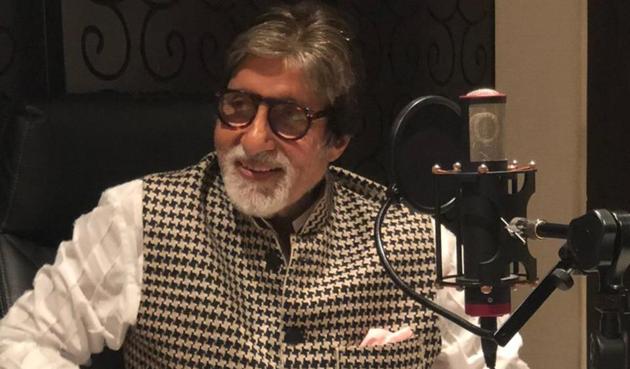 102 Not Out: Amitabh Bachchan knows what causes all trouble and is rapping away a solution. Watch video
The lyrics of the 102 Not Out song are as quirky as Amitabh Bachchan. Take this, for instance: "Teri sab samasya ka no samadhan, tu dukhi hai...teri life ek website ka form, naam hai jiska Chinta.com!"
UPDATED ON FEB 24, 2018 03:26 PM IST
Amitabh Bachchan, who recently revealed he is recording a song for his upcoming film 102 Not Out, has now shared a video where we can watch him rapping for the film. Directed by OMG - Oh My God fame Umesh Shukla, 102 Not Out stars Rishi Kapoor as Amitabh's septuagenarian son.
The lyrics of the song are as quirky as the star has become these days.For example: "Teri sab samasya ka no samadhan, tu dukhi hai...teri life ek website ka form, naam hai jiska Chinta.com!" In the past, Amitabh rapped for R Balki's Shamitabh and the song -Piddly - was equally random and quirky.

Sharing the video, Big B wrote on Instagram, "3:30 am .. in the recoding studio .. trying to rap for the new song for 102 Not Out .. fun becoming .. hahaeha." He also informed fans that he has composed, arranged and sung the song!
+ +
Big B also wrote about it in his blog. "The entire concept of recording songs has changed. From being complicated several years ago, it is now even more complicated as the world moves towards modern technology, an inevitability, our sense of recreation preservation and exploitation has become even more complex. Guided and managed by a stream of knowledge aware professionals and entrepreneurs, it is educative and entertaining to hear and assess the quality of people that one has to meet, in order to have a vision of the coming years," Amitabh wrote on his blog.
Read the entire blog here
Amitabh's character will be seen as a 102-year-old father to 75-year-old character of Rishi in the film. Billed as a most unusual father-and-son love story, 102 Not Out is based on playwright Saumya Joshi's well-known Gujarati play by the same name.
In a statement to Variety, Amitabh said earlier, "I know the country loves the younger, fresh and vibrant new generation – as it should deservedly , but who ever said the 'oldies' are not capable to do similar .. we know you may not love us, but given a chance we shall not disappoint you either .. and that is as immodest as I can get." Rishi said in the same article, "Being in '102 Not Out' brought back a lot of fond memories and fun I have shared with Amitji during my younger days. I am glad to reunite with him on such a special and unusual film."
The film will release on May 4.
Follow @htshowbiz for more
Close