Kedarnath director Abhishek Kapoor on Sara Ali Khan: It doesn't matter whose kid you are
Updated on Nov 23, 2018 05:13 PM IST
Abhishek Kapoor spoke about his directorial venture Kedarnath that stars Kai Po Che actor Sushant Singh Rajput and debutant Sara Ali Khan.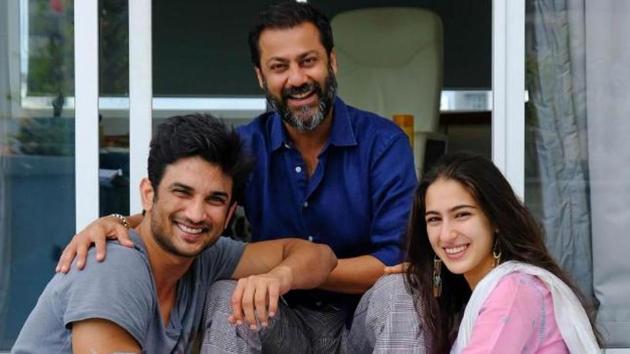 Hindustan Times |
Ruchi Kaushal
Director Abhishek Kapoor is finally set to witness the release of his film Kedarnath on December 7. The trailer of the film, which had to deal with several controversies and production hassles, has been received well by the audiences. With the holy pilgrimage of Kedarnath as its setting, the film also tells the love story of a Muslim porter and a Hindu tourist during the devastating 2013 Uttarakhand floods. In an exclusive interview with Hindustan Times, Abhishek spoke about how difficult was shooting the film, its holy setting and launching star kid Sara Ali Khan. Excerpts:
Saif Ali Khan's daughter Sara marks her debut with Kedarnath. So how it is to work with a newcomer, especially a star kid?
She is a kid, that's what it is. It doesn't matter whose kid you are. When you come to a set, you have a craft and a job at hand. I have worked with newcomers before. She had no experience in acting, and the kind of film it is, there were some serious responsibilities and a very important backdrop. The cast and crew were all professionals. So to get her to that level was a task in itself but she was very determined and has worked very hard. I am very proud of her.
You directed Sushant Singh Rajput in his debut film Kai Po Che. You have worked with him after five years. What major change you noticed in him as an actor.
In the case of Sushant, when I first worked with him, he brought another experience. On the first day of the shoot, he was a pro. He was from TV and was a big name. He was a 100% professional actor the first time around. This time, if he can keep his nuances intact was the biggest challenge. To still be curious about your craft when you are at the top of your game is what matters. I think he is in great form.
How much of the film has been shot in real locations.
Half the film has been shot at the location. This is a very difficult backdrop to execute, for which I got a fabulous team. I got some technicians flown from abroad for the action sequences. A lot of live action happened when we were shooting the flood scenes. So we built a massive set in a 120 feet long water tank for the sequences.
Sushant Singh donated around ₹1.25 crore for the Nagaland flood victims. How the film has changed you as a person.
Somewhere along the line, he has shot his own film. He would feel what kind of devastation these floods can create. What we have seen with our own eyes can change the way we look at the world. Somewhere in his heart, he understood that pain and knows what he is doing. It is a noble gesture.
As far as I am concerned, I have lived this devastation for almost two years now. I have seen how it has damaged the place. I have seen the people who have suffered and have lost their dear ones in the floods. There is lot of loss and a lot of feeling. That is one of the reasons we have made the film.
Does the film have a message?
I am a big believer in Lord Shiva. He is so many things for so many people. The greatest of thinkers can write books on him. The simplest and the most important part about having a Shiva quality is -- if you have a desire to sacrifice for your fellow human beings. No matter if you are a Hindu or a Muslim or a Christian, if you have a sense of kindness, Shiva resides in you. Har Har Mahadev means Shiva is in each one of us. This is the core of our film.
Some bodies had asserted that it promotes love jihad.
We had put out a 1-minute teaser and people felt so strongly about it. I think the reactions came out of fear. Someone must have heard about the ideology before and said that someone is going to hurt something. Otherwise there was no reason to behave like that. I would like to assure that I have handled a film like Kai Po Che before, which dealt with a sensitive matter. I have been quite measured and very sensitive to how we feel about these issues.
Follow @htshowbiz for more.
Personalise your news feed. Follow trending topics