Omerta trailer: Rajkummar Rao is a study in evil as he plays a terrorist in Hansal Mehta film
Mar 14, 2018 03:05 PM IST
Omerta trailer has Rajkummar Rao at his devilish best as he plays a terrorist who hides in plain sight.
Dressed in a pristine white kurta-pyjama, a bearded Rajkummar Rao smiles as he climbs into a police van. That is the moment from Omerta trailer that you will remember -- not the explosions, not the reiteration about jihad and not even the police brutality. But that smile -- pure evil as it is -- will stay with you. Omerta -- another combined initiative of Rao and director Hansal Mehta -- is based on the real life story of British terrorist of Pakistani descent, Ahmed Omar Saeed Sheikh. The director has called it is his bravest attempt till date and after watching the Omerta trailer, we have no doubt whatsoever. Omerta has been widely appreciated across several film festivals including the Toronto International Film Festival.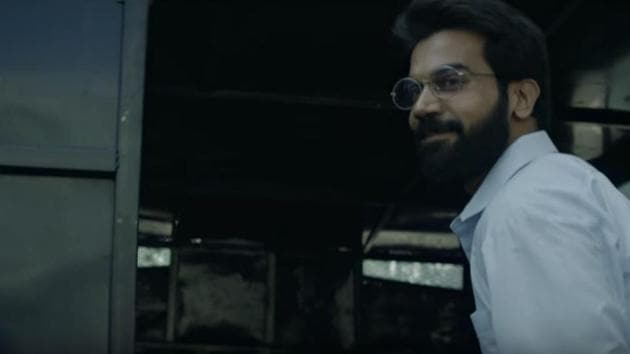 The two-minute trailer shows Rajkummar as a young trainee who turns into a hardened terrorists taking on assignments and moving to different territories across the globe for the sake of "jihad". Rajkummar is told in the beginning, "Is raaste pe khatron ka saamna karne ke liye tumhe apne jazbaat pe qaabu rakhna hoga. Training ka sahi istemal karke humare jihad ko apne manzil tak le jana hoga."
Speaking at the trailer launch, director Hansal said, "Omertà takes a look at this complex paradox of a man called Omar Saeed Sheikh. It was a difficult subject to choose and a challenge to make. However, with an actor like Rajkummar, no challenge seems insurmountable and this was the ideal film to hurtle us out of our comfort zone to make something that is uncomfortable. But that is the burden of truth - it is uncomfortable and it must be faced. The film looks at what it means to be a fundamentalist and for someone to pick up a gun with the intent of killing in return for an afterlife in Paradise. I want to leave the viewer with a sense of awe, disgust, hate, surprise and let them examine the ramifications of these events on their lives today."
"Omertà is among the most researched films that I have worked on till date. We actually visited some of the places frequented by Omar in London during his transformation from an LSE graduation student to becoming this deadly terrorist. I needed to feel and touch this man's past - to ingest him. It was not an easy journey for me to take. With Omertà and Hansal Sir, we have a combination that will probably leave you stunned. There will be this moment of shock and silence as the end credits roll," Rajkummar added.
Shot in real locations across London and India, Hansal Mehta's Omertà exposes the real and present danger of state-sponsored terror. Woven around some of the most bloody terror attacks in recent history including the 9/11 world trade center attacks, the Mumbai Terror Strike and the brutal beheading of American journalist Daniel Pearl, Omertà is a thriller that looks into the journey of an evil mind. The film premiered to excellent reviews at the Toronto International Film Festival 2017 followed by the Busan International Film Festival and a very successful screening of the Closing film at the Mumbai Film Festival 2017.
Mehta and Rajkummar have worked together in National Award-winning films such as Aligarh, CityLights and Shahid earlier. Produced by Nahid Khan and presented by Swiss Entertainment, Omerta will hit theatres on April 20.
Follow @htshowbiz for more